Tariffs and trade war: From hiked prices to job losses, the best- and worst-case scenarios to expect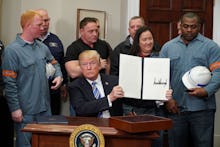 A two-week countdown clock began ticking Thursday after President Donald Trump signed orders imposing new tariffs — taxes on international trade — that will raise prices of imported steel and aluminum. Starting March 23, there will be a tax of 25% on steel imports and 10% on imported aluminum, according to the proclamations, though exceptions are carved out for materials from Mexico and Canada.
Other trade partners like Japan, Australia and the European Union are seeking exceptions as well, which raises the question of how widely the tariffs will be felt in the end. Still, the stakes are high for both workers and consumers, who could pay more for cars, canned goods, electronics and more. The policy has been widely criticized by economists, including the president's own top advisor — former chairman of the National Council of Economic Advisors Gary Cohn — who resigned following disagreements about the policy.
How might this current situation play out? Here's what evidence suggests could happen to consumers and workers alike, best- and worst-case scenario.
What's the precedent for tariffs — and the best-case outcome?
Best-case scenario? Trump grants exceptions broadly enough to prevent retaliation from crucial trade partners like the European Union and South Korea — minimizing effects on workers and consumers. The European Union has said it was "seeking clarity," according to the Associated Press, and South Korea said it may file a complaint to the World Trade Organization, reports Reuters.
Even if Trump walks back the scope of the tariffs, prices would still rise, though primarily on products that use lots of imported aluminum or steel from the countries without exclusions. Yet because of all the unknowns, negotiations could be tough, said Monica DeBolle, a senior fellow at the Peterson Institute for International Economics.
"It's like trying kill a fly with a bazooka," DeBolle said. "These tariffs specifically are broad, they are high, and they are far-reaching ... Usually tariffs work when they are narrowly defined... But when you do a broad tariff like this, and it's on raw material, you're basically affecting the entire production chain in many different sectors all at the same time."
Aluminum and steel show up in everything from cars to bridges to electronics to soup cans — for which steel can comprise 60% of the cost. When there's a new tax on such raw materials, manufacturers have little choice but to pay the higher prices, DeBolle said, with costs then passed on to others in the economy. And this is not, in fact, the first time similar protective tariffs have been imposed — or caused prices to rise.
When pro-tariff Commerce Secretary Wilbur Ross's company bought a steelmaker in 2002, he actually benefited from a new Bush administration tariff on imports. One reason? While the tax was soon abandoned, it did briefly cause steel prices to "skyrocket" — before they settled down and rose again amid industry consolidation, as the Wall Street Journal reports.
Now, the price changes, in certain contexts, can sound pretty trivial. On CNBC, Ross said that the cost of a $2.99 can of soup would rise about six-tenths of a cent. A car, he estimated, would be about $175 more expensive.
But industry sources estimate the new costs would be much higher than that. How so?
What is the worst-case outcome from tariffs — including trade war?
Kristen Dziczek, director of Center for Automotive Research's Industry, Labor & Economics Group, said the average vehicle would cost about $300 more, according to AP. The beverage industry estimated consumers will pay an additional $348 million for their canned beer. Even Apple products could be affected — MacRumors reported that the latest iPhone X contains about 58 grams of steel for its frame.
Yet the worst-case scenario might not be in consumers paying $300 more for a car, but rather in what happens to workers employed in a range of industries, starting with manufacturers using aluminum and steel.
According to think tank Trade Partnership, while the new tariffs are designed to help strengthen and create jobs for U.S. aluminum and steel producers, it will actually lead to a net estimated loss — of nearly 146,000 jobs — once you factor in industries that use steel, including manufacturing, energy, construction and the automotive industry.
And again, if other nations retaliate — imposing tariffs on and lowering demand for American products — any number of other industries and the workers they employ could similarly feel pain, including those makers of jeans, bourbon, peanut butter, motorcycles and other agricultural products like soybeans.
If it is not granted an exception, the EU is threatening retaliatory taxes on "everything you have for breakfast," the AP reports, referring to U.S. agricultural products like cranberries and orange juice.
Meanwhile, as the deadline approaches, companies are also seeking exceptions to the tariffs — while foreign companies employing U.S. workers are already slowing investments, with one Swedish manufacturer hitting pause on a $250 million Tennessee factory expansion, as USA Today reports.
Sign up for the Payoff — your weekly crash course on how to live your best financial life.