Compton Mayor Aja Brown is running for Congress against actress Stacey Dash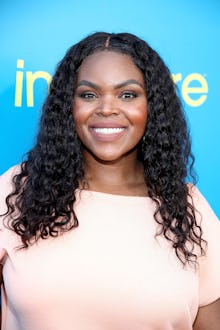 Aja Brown, the mayor of Compton, Los Angeles, announced she is running for representative of California's 44th congressional district Thursday afternoon via a campaign video. The news comes more than a week after actress-turned-conservative commentator Stacey Dash filed a statement of candidacy for the same seat on Feb. 26.
TMZ first reported the possibility of Brown running against Dash, who is running as a Republican, on Tuesday. Brown confirmed her candidacy on Thursday.
"Our community deserves an experienced representative that has served in our neighborhoods, understands our issues and is committed to real progress," Brown said in the clip she posted to Twitter. "I'm running for Congress to lift the standard of service and be a real voice and strong advocate for the women and men that work hard every day to create a better future for their families. This campaign is about us: real people who are united, connected and committed to elevating and empowering our communities."
California's 44th congressional district includes the areas Compton, Carson, Southgate, Watts and San Pedro. Democrat Nanette Barragán has held the seat since January 2017 and is running for re-election. Barragán received the California Democratic Party's endorsement in February.
Brown first gained national attention in 2012, when she was elected Compton's youngest mayor at the age of 31. Since then she has worked on several initiatives in the city, from reducing the unemployment rate and launching a community program Compton Empowered for gang intervention.
Dash, on the other hand, is known for starring in '90s classic film Clueless and for insensitive commentary on race and transgender people's rights.