Bobby Berk from 'Queer Eye' talks about his reputation as the hardest working member of the Fab Five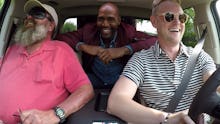 In the weeks since Netflix's Queer Eye series has been available, its central cast of five experts — Jonathan Van Ness, Karamo Brown, Tan France, Antoni Porowski and Bobby Berk — have quickly become household names, spawning a million conversations about which guy is the best, whether Porowski can actually cook and what the heck Brown's job description actually is. It's all in good fun, of course.
Thursday evening, Mic had a chance to chat with Berk over the phone about his own reputation, what it's like interacting with the show's contestants over Twitter and that one time he helped RuPaul pick out knobs for his dresser.
Editor's note: The following interview has been edited for clarity and length.
Mic: Hi Bobby. It's nice getting to talk to you. I cover entertainment here, mostly as it relates to queer culture. So, a lot about Drag Race and —
Bobby Berk: Drag Race is my favorite.
Are you going to watch tonight?
BB: Of course. I've known Ru for a long time. We're not good friends or anything, but we've met a few times throughout the years. Actually, years ago at my very first job at Restoration Hardware in 2003, she came in looking for some knobs for a dresser and I was helping her for, like, two hours picking out knobs.
And then when I opened up my own store in SoHo, he used to actually then shop in my own store, having no idea that I was the kid who helped him back in 2003 pick out some knobs. He used to come into my store and one of my store managers — they're both very similar and love Judge Judy — would sit in my store for hours, just cackling about Judge Judy. And then all of a sudden, one day we started getting all these hits on our website from RuPaul.com and I was like, "What is going on?" He had bought a leather bag at my store and it was his favorite thing, so we made the top favorite things of RuPaul in 2009.
Now that Queer Eye has been out for a few weeks, how has it been seeing everyone reacting to it?
BB: It's been great. We had hoped and prayed that it would be received well, but I don't think any of us expected how well it's been received. It's been great to see everyone receiving it the way we wanted it received, which is that it's this ray of positivity in the world, showing people that people from different walks of life can come together and find that common place, and I think it's giving people a lot of hope. And I think I've said "people" about 20 times in that last sentence so I'm not going to let myself say "people" again.
It's been fun for me to see what narratives and characterizations of each of you that people are grabbing onto. Like, with Antoni, everyone is talking about his guacamole —
BB: That's not why people are talking about Antoni. [Laughs]
OK, maybe secondarily, the guacamole. But are you happy your reputation is essentially the guy who actually has a really hard job to do?
BB: It's funny because right before I called you I was on the phone with a lifelong friend of mine and we were talking about the things that are being said about me and the other guys in the press and some of them are true and some of them are not, and she was like, "You know, one of the things I love about everything I'm reading is it's literally just the person I've known for 30 years. It's not somebody different."
So yes, I am happy at how I'm being portrayed in the press because it's nothing really negative — I am the guy who's getting in there and working my ass off. And yes, I might have a little less screen time than the other guys, but it's because I'm stuck in the house while they get to go out and have fun. It's just the matter of my job, and I knew that going into it, so that's why it doesn't bother me. I knew going in and remodeling someone's home was going to take a hell of a lot more time than other things.
As a designer, the best part of our job is for a client to be happy in their home, and that's the reward I get. I really think of these guys as clients where we just so happen to have cameras behind us. At the end of the day, it's just like me going in and designing a home like I would for any client.
I've been seeing that some of the people you helped on the show have been tweeting — especially Tom, from episode one, who seems to be really enjoying his time in the spotlight.
BB: I don't think I'm exaggerating when I say I literally get a text from Tom every day updating me on how many Twitter followers he has. I'm like, "Yes Tommy, I know." It's funny because we don't always share our personal information with them — there's a few I talk to all the time, like Neal [from episode two], Corey [from episode three].
But Tom, when we first met him, we actually gave him a smartphone. He had a flip phone before. He didn't even know how to text. But now he's got an iPhone and he's going to town with it. I ended up having to text him because he kept tweeting me, publicly, his phone number. He was like, "Hey buddy, give me a call." Finally I texted him, like, "Tom, you've gotta take your phone number down. Crazy people are going to start texting you." He was like, "Oh, I just thought that was to you."
So now that you're all out there in the public, what are the questions fans send you the most over Instagram and Twitter?
BB: I would say the question I get the most, hands down is, "How long did you guys know each other beforehand?" And the answer is we literally met the first day of casting. Karamo and Tan and I, that very first five or 10 minutes, sat down next to each other and clicked. By the end of the day, JVN — Jonathan, we call him "JVN" — JVN and Antoni had come into our little group. So by the end of the first day of casting, in our minds, we were the Fab Five.
I guess the second question is, "Can you come design my house?" I get tons of DMs with pictures of rooms, going "What color should I paint my room?"
Do you answer?
BB: Some of them I do, some of them I don't. It depends on what time of day they message me. If I have my phone in my hand and a Twitter message pops up and I have time, I try to answer. I know there are a lot I don't get to because I can't keep up.
I think the day after the show came out, I got up early and came out to the living room and sat down on the couch and started responding to messages, and I looked up and it was 6 p.m. I had been lying on the sofa all day doing nothing but responding to messages. And I'm like, "OK I can't do this anymore."
The number one question is, "How long have you guys known each other?" [Then it's,] "Can you come design my house?" and the next one is, "What color should I paint my room?" I even have people take photograph paint swatches and they're like, "What color goes with this wallpaper?" I get that a lot.