How Donald Trump's tariffs may impact you and US workers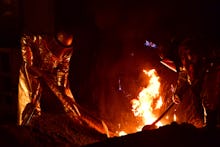 Welcome to Mic's daily read on Donald Trump's America. Want to receive this as a daily email in your inbox? Subscribe here.
Friday's dispatch: How the tariffs may impact you
Despite stiff opposition from the GOP, Democrats and big business, President Donald Trump pushed forward Thursday with his plan to impose a 25% tax on steel imports and a 10% tax on aluminum imports. Trump argues the policy will help American steel and aluminum producers compete with global providers. But many others, including U.S. allies in the European Union, argue the tariffs defy the ideals of free trade and will force tariffs on goods exported from the U.S.
But how will this affect everyday Americans? At first, one may not see a dramatic rise in the cost of items, from canned goods to cars. Companies have to decide whether to pass those costs on to consumers, and the increase may be negligible enough that the average consumer won't notice it. But concerns about what Trump may have triggered has economists worried.
The president's tariffs are straightforward — $100 worth of steel imported into the U.S. from Brazil, for example, would now cost $125. The same logic applies for aluminum. According to the Brookings Institution, steel and aluminum imports accounted for about 2% of all U.S. imports in 2017.
Trump also chose to exclude Canada and Mexico from the tariffs, at least temporarily, which will temper any sting of the new tax. Those countries alone provide more than a third of imported U.S. steel, and more than 70% of the steel and aluminum in Michigan, where 230,000 workers work in jobs tied to metalworking.
Still, the tariffs are likely to lead to blowback from U.S. allies. The European Union was quick to promise a tariff on blue jeans, bourbon and Harley Davidson motorcycles to target singularly American products. Japan also promised to respond, saying the tariffs would have a "big impact" on the economic relationship between the two countries.
This is not necessarily good news for U.S. workers in the steel and aluminum industries. The tariffs could result in five jobs lost for every one job gained, according to a new study from the Trade Partnership, a consulting firm focused on trade policy. That's because the vast majority of jobs in the U.S. steel and aluminum sectors are not related to smelting metal. They're in "downstream" jobs, like car factories, that rely on imported steel.
While U.S. steel and aluminum workers may cheer the tariffs, the vast majority of Americans working with those metals may be hurt by higher prices on foreign-made metals. The U.S. imports about four times as much steel as it exports, and is the largest importer in the world. That means U.S. steel or aluminum companies can't immediately provide cheaper steel to U.S. companies that rely on foreign metals, which will suddenly be more expensive.
In Indiana, a state Trump won by double digits in 2016, employees at large manufacturers like General Motors, Caterpillar and Cummins may see their costs rise. That could lead to job losses at those facilities.
Indiana is, of course, the state where Trump made one of his earliest high-profile promises on trade and manufacturing after winning the 2016 election. The then-president-elect traveled to the Carrier air-conditioner plant near Indianapolis to strike a deal to keep the company from laying off hundreds of factory workers. Initially, Carrier planned to cut about 2,100 jobs in Indiana and move work to Mexico. Trump made Carrier cut that number in half. In January, the final 215 Carrier employees were laid off from the plant. There are now about 1,100 employees who work for Carrier in Indianapolis.
Today's question: Keep the tariffs in mind over the coming weeks and months. Please let us know if you see any impact from them in your community.
Please email us at trumpsamerica@mic.com with your thoughts.
Friday in Trump's America:
North Korea: South Korean diplomats announced Thursday evening that Trump and North Korean leader Kim Jong Un will meet by the end of May. It's a true breakthrough for the two leaders, who have been locked in a war of words and repeatedly threatened war over North Korea's nuclear program. However, North Korea has promised to end development of that program before, only to go back on its word.
The meeting would be the first between a sitting U.S. president and a North Korean leader.
Dodd-Frank rollback: Here's how loosening financial regulation on big banks could impact your money. The Senate will vote on a plan to cut regulations on banks, imposed in the wake of the 2009 financial crisis, next week.
"First Amendment Defense Act": Republican senators introduced legislation that would protect those who discriminate against LGBTQ Americans as well as those who have sex outside of marriage.
Obama on Netflix? Former President Barack Obama is reportedly in talks to host or appear in a Netflix series with first lady Michelle Obama.
More office excess: The government spent over $130,000 on a door in Interior Secretary Ryan Zinke's office, ostensibly because the door was not secure. A spokeswoman for the secretary said he did not ask for the project and was not aware of its cost.
Paul Manafort: The former Trump campaign chairman pled not guilty Thursday in Alexandria, Virginia, to the latest set of charges against him from special counsel Robert Mueller. Manafort must now wear two ankle monitoring bracelets as part of his home confinement requirement.
More Mueller: The special counsel has also reportedly found evidence Trump's team was trying to establish a backchannel to Russia through a meeting in the Seychelles before Trump took office.
The bizarre Pennsylvania race: Republican groups have spent more than $10 million in an attempt to boost state Rep. Rick Saccone over Democratic challenger Conor Lamb in a U.S. House race outside of Pittsburgh.
Worry for Democrats: The Republican tax plan may face opposition overall, but it is finding support in red states. In several states where Democratic senators are up for re-election in 2018 — like West Virginia, North Dakota and Indiana — residents are not only supportive of the tax plan, they broadly feel the economy has improved since Trump took office.