As key staff departs, Trump insists "there is no chaos" in the White House. He is the chaos.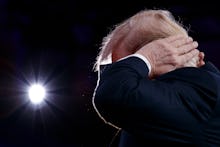 Weeks into his presidency, Donald Trump held a fiery press conference to chastise the "fake news" media over reports that his administration was in a state of turmoil.
"I see stories of chaos, chaos, yet it is the exact opposite," Trump said in February 2017. "This administration is running like a fine-tuned machine."
Of course, it was not.
Trump had arrived in office amid widespread protests and controversy. The rollout of his first attempted travel ban had been a complete mess, and he was already under fire for coordinating his response to a North Korean missile test with Japanese Prime Minister Shinzo Abe at Mar-a-Lago — in full view of the civilian members of his private golf club.
His national security adviser, Michael Flynn, had just resigned in scandal over shady contacts with Russia in what would become the first of many high-profile White House ousters.
The most recent of those departing the White House is Gary Cohn, Trump's top economic adviser, who announced Tuesday he would resign amid a disagreement with Trump over his reportedly impulsive decision to impose tariffs on imported steel and aluminum.
The news — which came just days after outgoing communications director Hope Hicks, one of his most loyal aides, announced she would be leaving the administration — once again seemed to bring the White House chaos to a boil, and the president once again spoke out in an attempt to turn down the heat.
"The new Fake News narrative is that there is CHAOS in the White House. Wrong!" Trump tweeted Tuesday. "There is no Chaos, only great Energy!"
But that is, as counselor to the president Kellyanne Conway might put it, an "alternative fact." Because in truth, Trump seems to be something like the King Midas of chaos — everything he touches is thrown into disarray. It's how he ran his business, it's how he ran his campaign and it's how he's running the country. And regardless of who goes and who stays, the White House will likely remain in a state of tumult as long as Trump is in it.
The chaos president
Trump's wild run for office was an exercise in pandemonium.
Beginning with a racist call to arms, Trump's campaign was characterized by rampant lies, massive scandals and compulsive feuding. His rallies frequently descended into violence that he encouraged. And his big-time campaign staff shakeups foreshadowed the revolving door his White House would become.
But as the Washington Post reported in the spring of 2016, such disarray was nothing new for Trump. It was a reflection of the way he operated in the private sector. Since taking office after his unlikely victory over Hillary Clinton, it's how he has run his administration.
"This is Donald," former Trump Organization Vice President Louise Sunshine told Politico last July. "This is his style."
For all the ways he's eroded norms in the 14 months he's been in office, one of the most notable is the amount of chaos and uncertainty he's injected into American politics. He announces major policy changes without having the details of said policy in place, often taking relevant departments by surprise. He is prone to seismic shifts in position and sometimes says things that — well, it's not clear what they're supposed to mean. Then there's his Twitter feed, of course, which is a veritable tornado of baffling language, Fox News talking points and attacks on everyone from "son of a bitch" professional athletes to his own attorney general — one of his earliest and most loyal supporters.
Amid all the tumult, insiders and pundits alike have been desperate to cast someone, anyone, as the proverbial "adult in the room" looking to quell the chaos of the Trump White House. Most notably, that's been John Kelly, who ousted Steve Bannon and Sebastian Gorka from the the president's inner circle soon after coming on as chief of staff.
The retired general, who had been helming Trump's Department of Homeland Security, was brought on in August to help bring order and stability to a White House that desperately needed it.
But more than seven months since his appointment, Kelly has failed to deliver on that promise. Instead, he's been been caught in the web of scandal that has already ensnared so many in Trump's orbit.
The chaos was there before Cohn and Hicks suddenly announced their departures; it's a fair bet it'll stay well after they're gone.
As Bill Curry — a counselor to former President Bill Clinton — said in an interview with Mic in February amid rumors that Kelly himself would be ousted, it's not about who gets sacked and who doesn't in this White House. It's about the guy in charge.
"If you're looking to make a difference in how this administration functions, there's only one person worth firing," Curry said. "And it's Trump."