The risks and potential rewards of Trump meeting with Kim Jong Un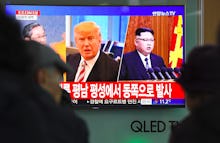 President Donald Trump on Thursday confirmed that he plans to meet with North Korean leader Kim Jong Un in the coming months, in what could represent a significant and historic breakthrough in the effort to denuclearize the Korean peninsula.
"Great progress being made but sanctions will remain until an agreement is reached," Trump tweeted Thursday night. "Meeting being planned!"
If the meeting — which South Korean officials say may happen as soon as May — indeed occurs, it would mark the first time a sitting United States president has ever directly spoken with a North Korean leader. By any measure, such a meeting would be historic — and could be a "positive step" toward de-escalating tensions on the peninsula, former Secretary of Defense Leon Panetta told CNN on Thursday.
But such a meeting between the two unpredictable leaders could also come with risks, according to Jenny Town, assistant director of the U.S.-Korea Institute at the John Hopkins School of Advanced International Studies.
For such a meeting to be successful, the U.S. will have to come to some agreement with North Korea on denuclearization. If not, Town said in an interview on Friday, the U.S. risks inadvertently legitimizing North Korea as a nuclear power. A failure to secure an agreement from Kim could also be used by the Trump administration as a justification for using military power against North Korea.
"The stakes are very high," Town said in a phone interview.
Trump and Kim have spent months trading personal barbs and threats, with Trump mocking his North Korean counterpart as "short and fat" and Kim calling the president a "dotard."
Trump has also publicly suggested that Secretary of State Rex Tillerson was "wasting his time" in pursuing diplomatic solutions with Pyongyang and in October cryptically tweeted that "only one thing will work" in dealing with the country, which conducted more than a dozen nuclear tests in 2017.
But South Korea opened up talks with North Korea earlier this year ahead of February's Pyeongchang Winter Olympics, which a delegation from Seoul said in Washington Thursday had led to a "shift from Kim Jong Un toward diplomacy."
"ICAN commends South Korea's leadership in achieving historic dialogue between the U.S. and North Korea, which is the only pathway to nuclear disarmament in the face of fire and fury," Beatrice Fihn, Executive Director of the International Campaign to Abolish Nuclear Weapons, said in a statement Thursday.
It's not yet clear what could come of such a meeting — if it does indeed take place.
The Trump administration has been adamant that North Korea abandon its nuclear program, which the Kim regime has strongly opposed. The U.S. has also been opposed to the "freeze-for-freeze" deal that China and Russia have backed, under which North Korea would halt nuclear testing in exchange for a freeze on U.S. and South Korean military exercises in the region. Trump has called such a plan "unacceptable."
However, as the Associated Press noted Friday, there could be incentives for both sides to work towards a solution. By making concessions, Kim could have an opportunity to see the sanctions that have battered his country's economy eased. And by striking a deal with Pyongyang, Trump could claim a significant political victory ahead of the 2018 midterm elections — one that he could argue vindicates his strategy on North Korea that experts have broadly regarded as incoherent and reckless.
According to Town, it's unusual for the U.S. to begin with such a high-level summit before lower level talks take place. To be successful, she said, the U.S. will need to go in with clear objectives, controlled messaging and consultation with South Korea — all things that could present challenges for the undisciplined and unpredictable Trump.
"The risks are high," Town said. "We'll have to see if he rises to the occasion."