Unreliable sources: A look at the week's worst media moments that didn't involve Stormy Daniels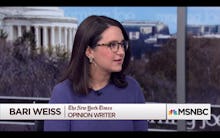 The news this week was dominated by news of the intensifying alleged hush money scandal involving President Donald Trump's lawyer and porn actress Stormy Daniels, along with a wild evening of interviews with former Trump aide Sam Nunberg, and an extended fight over tariffs. Throughout the media, some reporting and commentary this week was rife with mischaracterizations or flat-out falsehoods. Here's a look at some of the more cringeworthy takes and mistakes from this week.
New York Times op-ed writer uses fake tweets to make a point
The New York Times' opinion columnists have devoted a number of their columns to bemoaning college students who have staged protests or voiced their discontent when those whose views they find reprehensible are invited to speak on campus. This week was no different.
Columnist and editor Bari Weiss, who spent her own college years campaigning against Arab and Muslim professors with whom she disagreed, is now concerned with campus activism. In a column published Wednesday titled "We're All Fascists Now," Weiss criticized college students at Lewis and Clark Law School who on Monday protested a speech by Christina Hoff Sommers. If one is unfamiliar, Sommers is a critic of feminism, a Gamergate defender, rape culture and wage gap skeptic, and white nationalist radio program guest who is popular among right-wing and far-right pundits and journalists. The Lewis and Clark students protesting Sommers' speech described Sommers as a "known fascist;" she ultimately gave a speech after protests and interruptions.
The main thrust of Weiss' column is that Sommers, who Weiss describes fawningly, should not have been called a fascist, and that students calling her or other speakers fascists has brought about a "moral flattening of the earth." Weiss listed past instances in which conservative speakers have faced opposition and criticism from left-leaning groups, including anti-Muslim activist Ayaan Hirsi Ali, who the Southern Poverty Law Center has labeled an "anti-Muslim extremist", and professor Laura Kipnis, who faced a Title IX complaint after opposing Title IX in an essay.
Weiss' first example listed was criticism levied at Dave Rubin, a critic of progressivism who spoke at University of California, Berkeley on Thursday. Rubin, Weiss writes, was unfairly "denounced as an 'anti-LGBT fascist' and a 'fascist lieutenant' for criticizing identity politics."
The problem is that student protesters never called Rubin an "anti-LGBT fascist," or "fascist lieutenant," as Weiss claimed. The two tweets Weiss linked to calling Rubin such names were in fact quotations from fake tweets from an account that masquerades as an official account of "antifa" — the loose left-wing collection of groups that oppose fascism through direct action — in order to discredit the group.
@OfficialAntifa, the name of the Twitter account, was debunked in May 2017 by BuzzFeed News. The Twitter account also makes no secret of the hoax — the pinned tweet at the top of its page makes this clear with a very right-wing message: "We advocate for an ideology that has killed 94,000,000+ people in the 20th century and the media doesn't bat an eye. Why? #Charlottesville."
Readers quickly pointed out Weiss' error on Twitter, and wondered how this made it through the Times' editing process.
On Wednesday night, the Times removed the line and the entire reference to Rubin from the op-ed, adding an editor's note: "An earlier version of this essay cited criticism of the commentator Dave Rubin as an example of left-leaning attacks on liberals in the public sphere, and linked to tweets that described him as a fascist. Those tweets came from an account that has been reported to be fake. Therefore the example and the links have been removed."
After the Times removed the fake tweets, Weiss's argument lost much of its heft. "Why are so many demonstrably non-fascist people being accused of fascism?" Weiss wrote, citing one example in which a speaker has been called a fascist. "So many?" Not so much.
The Hill deletes column with no explanation
The political news website the Hill's opinion section has known controversy for its often contentious pieces. The site, which has published provocative editorials, such as a full-throated defense of accused sexual harasser and Republican Texas Rep. Blake Farenthold, or anti-journalism columns written by former Trump advisers, has something of a reputation of publishing hot and contrarian takes.
On Sunday, the site published an article written by Cheri Jacobus, a Republican consultant, disparaging outgoing White House communications director Hope Hicks for her role in the Trump administration.
"Her youth, messy and irresponsible romantic entanglements, and model good looks have given her potential criminality, or blind support thereof, an aura of glamour, prompting a spate of gossipy reports and speculation that Hope Hicks is ripe for a $10 million book deal, a movie and any and all of the accoutrements awarded celebrities, regardless of how that celebrity status was achieved," Jacobus wrote in the piece.
"In short, Hope Hicks is on track to monetize shame, stupidity, possible obstruction of justice and even potentially conspiracy with Russia to undermine U.S. elections. Her almost comical, chronic, repeated instances of exercising extremely poor judgement on so very many levels is about to become her lottery ticket."
But quickly after the article went up, it was gone. The link to the article now redirects to an error page.
Jacobus tweeted that the Hill had deleted the article. "Here's the piece @TheHill pulled off the site after asking me to write it," Jacobus wrote, linking to a Facebook post containing the article.
Jacobus confirmed to the Washington Post's Erik Wemple that the text of her Facebook post was the same as what was published on the Hill.
So what happened? A Hill spokesperson, in an emailed statement, said a Hill senior editor "saw the column soon after it posted and had questions about its tone and some statements."
"He pulled it down to reexamine and discuss with the writer," the spokesperson added. "There was no call or request from anyone in the Trump administration."
That's not what Jacobus told Wemple, who chronicled the controversy. Jacobus claims the Hill ignored her emails when she asked about the deleted article, and that opinion editor Frank Craig told her over the phone on Monday that he did not like the article.
None of that is to say that Jacobus' piece doesn't warrant some criticism. But a column like this can't be discussed at all if it is pulled from the website with no explanation. Deleting an already published article makes one wonder how it was published in the first place. And the Hill's lack of an editor's note is decidedly untransparent.
New York Times business section bungles analysis on tax rules
As tax season approaches, some useful personal finance information is becoming increasingly prevalent. The New York Times' Jan Rosen has authored a number of helpful tax-related pieces explaining the ins and outs of the tax code.
An interactive explainer used a sample tax plan and a hypothetical family to explain the effects of Trump's tax plan. The article reviews which tax rules will change once the new law is in effect for the 2018 filing season.
"Thanks to lower rates and a doubled standard deduction, 2018 taxes will fall for many people," read the article published on Feb. 23. "But that won't be true for quite a few others, like this hypothetical couple in suburban New York, Samuel and Felicity Taxpayer."
But a week later, an eyebrow-raising correction appeared, changing many of the major points the article had made.
"An earlier version of this article incorrectly described the probable effect of the new tax law on a hypothetical couple's 2018 tax bill," an editor's note read. "The TurboTax "What-If Worksheet" that generated the projection for their 2018 taxes failed to indicate that the couple would probably be entitled to claim a sizable deduction for income earned from consulting. As a result of that deduction, the amount they would likely owe on taxes would decline by $43, not rise by $3,896."
As a result of the correction, the third paragraph in the story, which had claimed that the Times' hypothetical family would be negatively affected by the tax bill, changed quite dramatically: "Thanks to lower rates and a doubled standard deduction and other breaks, 2018 taxes will fall for many people. That appears to be true for this hypothetical couple in suburban New York, Samuel and Felicity Taxpayer."
The correction was first noted by Daniel Hemel, an assistant professor at the University of Chicago School of Law and tax law expert. Even after the Times corrected the report, Hemel was not pleased.
"Still don't see why Samuel & Felicity aren't claiming nonrefundable dependent credits of $500 for their children Luke & Heidi and their parent Sydney, for additional tax savings of $1500 under the new law," Hemel tweeted.
A spokesperson for the Times said there was nothing to add save for the correction already appended to the article.
Yes, taxes can be complicated. But in a personal finance column intended to explain to readers all the changes that they face, it's best to be extra-certain that the claims about effects of the new tax code are accurate. The mistakes will only serve to help critics of the Times; Fox News already suggested that the mistake could be evidence of anti-Trump bias at the paper.