One year after the failed Fyre Festival, a look at how tourism in the Exuma islands is faring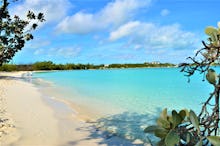 On the north side of the shark-shaped Great Exuma island in the Bahamas, in the immaculately aquamarine water off Coco Plum Beach, stands a wooden swing set. It has two swings, and when the tide rolls in, tourists take photos of each other pumping in and out of the water, set against a sky that is always blue. If all had gone as planned in April 2017, hundreds of music fans would have taken turns on these swings, a placid break from their luxury accommodations, gourmet food, Blink-182 and Migos.
Instead, the year-old swings are monuments to the worst debacle in modern Exuma history. Remember Fyre Festival? It all began when rapper Ja Rule and businessman Billy McFarland took flying lessons and ran out of gas on a trip from New York City and landed at this collection of 365 islands southeast of Nassau.
"Both of us immediately fell in love," McFarland told me in his only press interview last year, for a Rolling Stone article. McFarland and Ja Rule decided to share the love by concocting a remote, high-end music festival — and charging concertgoers between $1,500 and $250,000 for all-inclusive villa packages.
You probably know what happened next: Aside from the pre-festival marketing, which included videos of supermodels cavorting on the beach, organizers mishandled everything from lodging to stage production. When attendees showed up on Great Exuma for the weekend, they were stunned to find run-down hotels with no running water, and workers blithely tossing their luggage from trucks. "We were a little naive in thinking for the first time we could do this ourselves," McFarland said by phone at the time.
The courts are still hashing out what McFarland and his colleagues did wrong — he recently pleaded guilty in federal court to wire fraud and faces a prison sentence of eight to 10 years — but the only people paying attention to the Exuma Islands these days are tourists and locals. Fyre was supposed to take place on Great Exuma, 37 miles long, a chunk of cay shaped a bit like a shark with its mouth open located southeast of Nassau.
"Fyre Festival was geared towards, to be honest, rich white kids, and Exuma does not normally attract that product," Dwight Hart, 50, an island native who owns a local FM radio station and manages the Exuma Palms Hotel, said in a phone interview. "Exuma is more of a tourism product for couples, boaters, people who like water adventures, people who fish, families who come in for a beach experience."
At first, as the Fyre debacle unfolded on social media, McFarland and Bahamas tourism officials blamed each other. McFarland said in our interview that the Exumas "didn't really have a great infrastructure," lacked water and sewage facilities and "it was almost like we tried building a city out of nothing." This depiction of a third-world backwater prompted the Bahamas Ministry of Tourism to quickly release a statement lauding the obvious — a list of first-world fundamentals, including potable water, internet access, an electricity plant, waste management, a mini-hospital, police and local government.
Since Fyre, owners of Exumas restaurants and bars report that tourism is up — which is part of a longer trend. Visitor numbers have increased from 21,000 in 2000 to 51,000 in 2016. At a press conference in October, Joy Jibrilu, the ministry's director general, said Exuma "is experiencing the fastest rate of growth of any multiple-island destination in the Bahamas."
Why the big growth? Bahamas tourism officials didn't respond to interview requests, but Jibrilu, in the October press conference, cited the arrival of major airlines at Exuma International Airport. (Direct flights are available from Toronto, Miami, Fort Lauderdale, Florida, and Nassau.) Tourism officials have yet to release the 2017 numbers, so there's no official way to gauge the immediate impact of Fyre Festival, but Jibrilu played up a $40 million expansion of the local resort and marina February Point as evidence of the island's post-Fyre resilience.
"It didn't affect my tourism — I was up 25% in the last quarter," Kenneth Bowe, owner of Chat N Chill bar and restaurant in George Town, south of the Fyre site, said in a phone interview. "Most people never heard of Exuma until [Fyre]. Then they look it up on the internet and they see it's a nice place. All we need for them to do in the press is spell the name right."
In phone interviews, Exuma residents and tourism experts seem bemused by the idea that Fyre may have somehow dented the islands' international reputation. In addition to being diver heaven, with clear waters almost every day, the Exumas have secluded beaches of white sand and a bay where tourists can swim with feral pigs. Johnny Depp bought Little Halls Pond Cay, part of the Exumas, for a reported $3.6 million in 2004. Musha Cay is one of David Copperfield's 11 islands, a secluded area where Google's Sergey Brin got married; the wedding of Penelope Cruz and Javier Bardem also occurred there.
"Exuma has the strongest brand presence of all the other Bahamian islands," Noelle Nicolls, a Bahamas marketing and management consultant, said in a phone interview. "They can weather these big hits."
Hart adds that local brand-name resorts have long-term marketing reach that smooths over just about any negative publicity. "There's constant public relations being pushed on behalf of Sandals, which frames Exuma in such a positive light that even a little negative blip from Fyre Festival is not on anybody's radar." (A Sandals spokesperson said the island-vacation chain's Emerald Bay resort, on Great Exuma, was full last spring and "bookings remain on pace and better" a year later.)
On a more personal level, for some, Fyre had a devastating impact. A freelance festival manager traveled from the United States to Great Exuma to hire 80 Bahamian workers as bartenders, lifeguards and dishwashers. According to the manager, who started a GoFundMe fundraiser under a pseudonym, the workers were owed $8,000 total for their weeks of work. Nobody received a cent. "They were really left behind in a lot of ways," the manager, who spoke to Mic on the condition of anonymity, said by phone. "This was really not what they were expecting."
MaryAnn Rolle, proprietor of Exuma Point Resort, said she lost $136,000 after spending her own time and money to feed the festival workers. Rolle said by phone the festival put her in charge of feeding all the workers, and she began cooking two weeks before the event; one night, she and her staff washed 1,000 dishes.
"My legs are still paining me as I speak now," she said, nine months after the planned festival dates. "They told me they were wire-transferring the money. By the time they got back to it, everything had fallen asunder and they never wired the money."
Steady tourism has kept Rolle busy, thankfully, but her business has been flirting with bankruptcy and she has struggled to bounce back. "It's not the end of the world, but it's a lot you lost," she said. "I really cannot allow Fyre Festival to cause me to just be here and cry over it. I have to put them in the back burner and move on to my business."
For many on Great Exuma, though, the Fyre Festival is merely a blip, the source of fresh myths and amusing stories. For three weeks leading up to the festival, Hart, the radio station owner, rented his beach house to some people from the Fyre management team for $14,000. His part-time tenants did not realize the neighborhood had no street addresses. At one point, they left in the morning and tried to take an island cab home at night. But they didn't know how to describe the location, and kept referring to "Hart House." They wound up in three taxis until they found a driver who knew Hart and where he lived. "They trashed all the dishes and left food all over the place," Hart said. "But I had already spent the $14,000."
"Island people talk," Keturah Fox, manager of Shirley's Seafood in George Town, said by phone. "People gossip. They like news. But that happened on the other side of the island. I know for sure that don't have an effect on Exuma. Trust me, it's crazy busy right now."