This week in Trump-Russia news: Mueller gains ground on questions of collusion and obstruction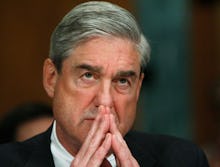 Special counsel Robert Mueller has learned more about the Trump team's plans for a backchannel to Russia — and about President Donald Trump's suspicious behavior toward the investigation into his campaign's possible collusion with the Kremlin.
In a pair of eyebrow-raising reports this week, it was revealed that an unofficial campaign adviser's January 2017 meeting with an associate of Russian President Vladimir Putin was held to potentially establish a secret line of communication between Washington and Moscow, and that the president has been talking to witnesses about the Russia probe against his lawyers' advice.
It was the latest set of twists in Mueller's intensifying investigation, which took some dramatic turns this week.
Prince's explanation for Seychelles meeting falls apart
Erik Prince — the founder of the controversial private military contractor Blackwater and brother-in-law of the controversial Education Secretary Betsy DeVos — claimed during a November hearing before the House Intelligence Committee that his pre-inauguration meeting with Russian Direct Investment Fund CEO Kirill Dmitriev was but a "chance encounter."
But, the Washington Post reported Wednesday, Mueller has since learned the meeting was anything but.
According to the report, the rendezvous was planned and part of a discussion about "future relations" between the United States and Russia. At the meeting, Prince and Dmitriev — the head of a wealth fund controlled by the Russian government — discussed setting up a backchannel between the Trump administration and Moscow.
The new information comes from George Nader, an adviser to the United Arab Emirates who was at the meeting and is now cooperating with the special counsel's team, and was left out of Prince's Capitol Hill testimony last fall — something that could put the Blackwater founder in legal jeopardy.
"During his Russia investigation interview, Mr. Prince was asked directly by me and Mr. Schiff who he met with while he was in the Seychelles," Rep. Eric Swalwell (D-Calif.), a member of the House Intelligence Committee, told CNN Wednesday. "He never gave the name George Nader. If he met with George Nader, he lied under oath."
Trump pressures witnesses in Russia probe
The revelation about the Seychelles meeting dropped Wednesday around the same time as a New York Times report that Trump had spoken with at least two witnesses about the Mueller probe.
According to the Times, Trump asked former Chief of Staff Reince Priebus — who spoke to the special counsel's office in October — if the special counsel's team had been nice, and instructed White House counsel Don McGahn to issue a statement denying reports that he'd threatened to resign last summer after being directed to terminate Mueller.
Mueller has learned of both episodes, according to the Times.
The apparent discussions are not necessarily illegal, they are legally inadvisable, according to the Times — and are in keeping with prior reports that the president frequently fails to observe boundaries in discussing the Russia probe with aides, including departing communications director Hope Hicks.
Taken together, the pair of reports seem to give a keyhole vision into the primary prongs of Mueller's investigation: possible collusion between the Trump team and the Kremlin, and possible obstruction of justice on the part of the president.
The Seychelles revelation would seem to add to the smoke that's been building around the Trump team's interactions with Russia before assuming office in January 2017. And Trump's discussions with Priebus and McGahn continue to paint a portrait of a president suspiciously hostile toward investigations into his campaign.
Nunberg melts down
For a relatively quiet week in the Russia probe, it sure began with a bang.
On Monday, Sam Nunberg — a former aide to the Trump campaign and an associate of Roger Stone — went on an unhinged media blitz that began with him daring Mueller to arrest him and ended with a CNN host telling him that she smelled alcohol on his breath.
Nunberg had told Axios Sunday that Mueller had issued him a subpoena — and, in a series of bizarre cable interviews a day later, declared that he would not be complying.
In those interviews, the former aide also made a series of off-the-cuff, explosive claims about the president — including that Trump "may have done something during the election."
But questions about Nunberg's mental state and possible impairment quickly began to overshadow his statements, culminating in a stunning exchange with CNN's Erin Burnett.
"Talking to you, I have smelled alcohol on your breath," Burnett said.
"Well, I have not had a drink," Nunberg said, also denying that he had taken any substances but anti-depressants.
By Tuesday, though, it was reported that Nunberg said he would be seeking an unspecified treatment and that he would, in fact, cooperate with the special counsel.
And on Friday, despite his earlier declarations, Nunberg did appear before Mueller's grand jury, testifying for about six hours in the federal Russia probe.