Trump will get his military parade — without the tanks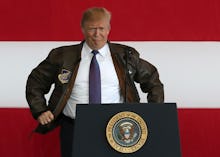 President Donald Trump is getting his hotly debated military parade, just without some of the dictatorial flare.
A memo released Friday by the Pentagon outlines plans for a military parade set for Nov. 11 (Veterans Day 2018) that will include service members from different branches of the U.S. military.
In order to "minimize damage to local infrastructure" the event will not include any tanks, but will include a "heavy air component" featuring both modern and historic aircraft.
According to Politico, which was first to report on the memo, the event will also highlight the growing role that women play in the U.S. military.
When news first broke of Trump's intention to hold a large military parade, it was met with bipartisan disapproval over its potential cost and resemblance to events put on by dictators in countries like North Korea.
Trump was apparently inspired to throw a military parade after attending France's Bastille Day celebration in France last year.
The United States has typically reserved these sorts of celebrations to mark the ends of foreign wars or conflicts. Trump has yet to end any of America's longstanding military interventions, though he has repeatedly declared victory in a fictional war against Christmas.
Trump's military parade is estimated to cost around $30 million in taxpayer money, according to Politico.