Nobody seems to know what's happening with Trump's decision to meet with Kim Jong Un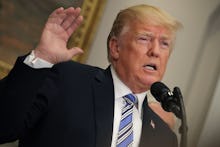 Less than 48 hours after President Donald Trump announced his historic and unprecedented decision to accept a meeting with North Korean dictator Kim Jong Un, his White House appears to be scrambling to figure out what, if anything, is actually going to happen.
Saturday morning tweeted about his call with Chinese President "Xi Xinping," saying that the Chinese leader "appreciates that the U.S. is working to solve the problem diplomatically rather than going with the ominous alternative."
Forty minutes later, Trump showed his commitment to cautiously carrying out high stakes diplomacy by deleting his tweet so he could retweet the same message with the Chinese leader's name spelled correctly.
Trump also tweeted about his call with Japanese Prime Minister Shinzo Abe, where he claims the U.S. regional ally expressed enthusiasm about the meeting just before Trump told him how unfair he believes U.S.-Japanese trade relations are.
Trump then went on to tweet, "North Korea has not conducted a Missile Test since November 28, 2017 and has promised not to do so through our meetings. I believe they will honor that commitment!"
But despite Trump's tweetstorms and marathon call sessions with heads of state, members of the Trump administration don't seem to have a clear understanding of how this meeting is supposed to play out.
On Friday, senior Trump officials appeared to change the terms under which Trump would meet with the North Korean leader. White House press secretary Sarah Huckabee Sanders claimed that "denuclearization" would be a precondition for the meeting to take place. The idea that North Korea would unilaterally dismantle it's nuclear program ahead of the meeting is extremely unlikely.
The administration also appears to have moved away from the two-month timeframe established by South Korea, further complicating the talks.
The rocky rollout for Trump's unprecedented diplomatic move may be due, in part, to the fact that the decision to meet with North Korea was not made through careful planning but through Trump's characteristic ad hoc approach to being leader of the free world.
The Washington Post reports that Trump's decision to meet with Kim Jong Un came after Trump personally intervened in a security briefing intended for his deputies, then invited the South Korean officials to his office and agreed then and there that he would take the meeting.
As of right now, the president still has no ambassador to South Korea, the State Department's top official on the Korean conflict resigned and has not been replaced and the National Security Council's top Asia expert has been out on paternity leave.
Looming over the preparations for the potential meeting is the president's increasingly unpredictable behavior with regard to policy decisions. Just recently the president decided to impose steep new steel and aluminum sanctions against the counsel of his chief economic adviser, who promptly resigned thereafter.
Trump also recently bucked his party on a host of gun control policies in a meeting with Republican and Democratic lawmakers, before taking another meeting with NRA officials and reversing himself again.