Trump advocates the death penalty for drug dealers in wide-ranging Pennsylvania speech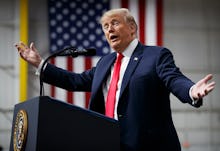 President Donald Trump spoke in Moon Township, Pennsylvania, Saturday night, campaigning on behalf of Republican House candidate Rick Saccone with a sprawling speech that included comments on North Korea, the 2020 election and the ongoing drug crisis.
During the Pennsylvania speech, Trump earned cheers from supporters with a call for the death penalty for drug dealers. The president told supporters that "it's a discussion we have to start thinking about," praising China and Singapore's "zero tolerance" drug policies.
"The only way to solve the drug problem is through toughness," Trump said Saturday. "When I was in China, and other places, by the way, I said, 'Mr. President, do you have a drug problem?' 'No, no, no, we do not.' ... I said, 'What do you attribute that to?' 'Well, the death penalty.'
"I don't know, frankly, if the United States is ready for it. They should be ready for it," Trump added. "But, at a minimum, you have to give long, tough sentences. But if you go to Singapore — I said, 'Mr. President, what happens with your drugs? 'No, we don't have a problem ... We have a zero tolerance policy.' 'What does that mean?' 'That means if we catch a drug dealer — death penalty.' And they don't have a problem."
The president blasted drug dealers for "killing our children, killing our families, killing our workers," and bemoaned the difference in sentences between murderers who kill one person and drug dealers, who Trump claimed kill "2,000; 3,000; 5,000 people over the course of his or her life."
"So you can kill thousands of people and go to jail for 30 days. They catch a drug dealer — they don't even put them in jail. Think of it. You kill one person, you get the death penalty, in many states, or you get life imprisonment. Think of it. You kill 5,000 people with drugs, because you're smuggling them in, and you're making a lot of money, and people are dying, and they don't even put you in jail, they don't do anything," Trump said.
"And then you wonder why we have a problem? That's why we have a problem, folks. And I don't think we should play games," Trump added, noting that he hasn't done any polling to gauge the policy's popularity. "These people are killing our kids, and they're killing our families, and we have to do something."
The Pennsylvania speech wasn't the first time that Trump has advocated the death penalty for drug dealers. Trump previously called for the policy during an opioid summit at the White House earlier in March after reportedly speaking passionately about it in private.
"Some countries have a very tough penalty, the ultimate penalty, and they have much less of a drug problem than we do," Trump said during the White House summit, according to the Washington Post.
Singaporean representatives have reportedly briefed the president on the country's drug policy. The Asian nation executes people convicted of capital offenses, which include trafficking more than 15 grams of heroin, the Post reported. The country, however, does allow for leeway in cases where drug dealers are "merely couriers or drug mules" and cooperate with law enforcement.
Trump has also praised the Philippine President Rodrigo Duterte for doing an "unbelievable job on the drug problem." Duterte has taken a similarly lethal approach, spearheading the extrajudicial killing of thousands of people by police in the name of combating drugs.
Experts, however, aren't sure that the harsh policies will have the effect Trump desires. Regina LaBelle, deputy chief of staff at the Office of National Drug Control Policy in the Obama administration, told the Post that current drug laws allowing dealers to be charged with capital offenses haven't had a "deterrent effect," and other sources cited by the Post suggest that the measures could prevent people from calling authorities when someone is overdosing or seeking treatment for addiction.
"It will keep people from any positive interface with police, any positive interface with public health, any interface with doctors," Daniel Ciccarone, a professor of family and community medicine at the University of California at San Francisco, told the Post. "People will become afraid and hide. They won't trust the police, and they won't trust the doctor either."
The president's ramped-up rhetoric on drugs is in line with Trump's approach to the ongoing opioid crisis, which killed 64,000 people in 2016. Rather than take preventative measures, Trump has instead emphasized a penal approach. The administration is reportedly mulling making trafficking large quantities of the opioid fentanyl a capital crime, the Post reported, and Trump said in his State of the Union address that his opinion on the drug crisis "is you have to get really, really tough, really mean with the drug pushers and the drug dealers."
Trump addressed the opioid crisis in his Pennsylvania speech in similar terms, telling supporters that "we have to go after the drug companies."
Drugs, however, were far from the only topic Trump delved into during the Pennsylvania speech, which also touched on the president's recent steel and aluminum tariffs, the recent tax reform bill and the Trump administration's crusade against sanctuary cities.
In light of the recent news that Trump has been invited to North Korea to speak with leader Kim Jong Un, Trump said he thinks the rogue nation "want[s] to make peace. I think it's time, and I think we've shown great strength."
"Hey, who knows. If it happens, if it doesn't happen, I may leave fast or we may sit down and make the greatest deal for the world and for all of these countries, including, frankly, North Korea. That's what I hope happens," Trump said about the potential impending talks.
The president also took credit for the success of the recent Winter Olympics in Pyeongchang, South Korea, telling supporters, "President Moon of South Korea said, without Donald Trump, the Olympics would have been a total failure. It's true, it's true. Might as well say it, nobody else it going to say it. ... It's a little hard to sell tickets when you think you're gonna be nuked."
"But when North Korea called and they said we'd like to be in the Olympics, everybody said let's buy tickets, let's go. I would have gone. And it became a very, very successful Olympics," Trump added.
In addition to talking about his current work as president, Trump looked ahead to the 2020 election, unveiling a new campaign slogan: "Keep America Great!"
"We can't say 'Make America Great Again,' because I already did that. Right?" Trump said Saturday.
The president also expressed hopes that Oprah would run against him in the presidential election, saying he "knows her weakness."
"Oh, I'd love Oprah to run. I'd love to beat Oprah, I know her weakness," Trump said. "Wouldn't we love to run against Oprah? I'd love it. That would be a painful experience for her."
Oprah wasn't the only Trump opponent the president lashed out at on Saturday. In his Pennsylvania speech, Trump attacked such perceived adversaries as "fake as hell CNN," Elizabeth Warren and Rep. Maxine Waters, whom Trump described as "a very low IQ individual."
The president also decried "sleepy eyes Chuck Todd," calling the Meet the Press host "a sleeping son of a bitch." Todd poked fun at the portrayal on Twitter Saturday by telling followers to DVR Meet the Press "before your eyes get too sleepy," though the host criticized Trump's "vulgar" speech in an interview with NBC4.
"I bring my kids up to respect the office of the presidency and the president," Todd said. "I don't allow them to say anything negative, ever, about the president."
"It creates a challenge to all parents when he uses vulgarities like that," Todd added.
In his Saturday speech, however, Trump defended his free-wheeling style of public speaking, jokingly imitating a stiffer and more "presidential" style of speaking and telling supporters they'd be "so bored" if he were to appear that way.
"You know how easy it is to be presidential? But you'd all be out of here right now — you'd be so bored," Trump said.
"That's easy. That's much easier than doing what I have to do, because, but this is much more effective," Trump added. "Remember, this got us elected. If I came here like a stiff, you guys wouldn't be here tonight."