As China abolishes term limits, Xi Jinping takes on risk in potential lifetime presidency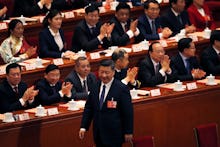 The National People's Congress in China officially voted to abolish its presidential term limits Sunday, paving the way for current Chinese President — and Donald Trump ally — Xi Jinping to serve for life.
The vote, which passed 2,958 in favor, two against and three abstentions, removed a phrase from the country's constitution that specified the president and vice president "shall serve no more than two consecutive terms," Chinese state news outlet Xinhua reported Sunday.
Chinese leaders were previously limited to two five-year terms; Xi, who first ascended to power in 2012, officially began his second term earlier in March and was previously due to leave office in 2023.
In addition to the term limit vote, China's National People's Congress also approved two other measures asserting Xi's supremacy. A political philosophy titled "Xi Jinping Thought on Socialism with Chinese Characteristics for a New Era" was added to the country's constitution; the People's Congress also voted to create "supervisory commissions" that institutionalize Xi's anti-corruption efforts.
"This is Putin-plus," Bill Bishop, who publishes the Sinocism newsletter on Chinese politics, told the Guardian. "It means that so long as Xi is alive and the Communist party of China is in power, then Xi is going to be the most powerful man in China."
Xi has formed a strong relationship with U.S. President Donald Trump during the first year of the Trump administration. In a December interview with the New York Times, Trump commented that Xi, whom Trump "like[s] very much," had "treated me better than anybody's ever been treated in the history of China."
"China has done more for us than they have ever done for any other president or ever done for this country, and I respect that," Trump reiterated during a rally speech in Pennsylvania on Saturday night.
Trump has also praised the controversial move towards Xi's lifetime rule, joking about the policy at a fundraising event at Mar-a-Lago soon after the proposal was first announced.
"He's now president for life. President for life. No, he's great," Trump said March 3. "And look, he was able to do that. I think it's great. Maybe we'll have to give that a shot some day."
During his Pennsylvania speech, the president then clarified that his comments were intended in jest, telling supporters, "I was joking, I was at a roast actually, but I was joking and I said, 'Huh, president for life, that sounds good. Maybe we're going to have to try that.' ... But I'm joking!"
Despite Trump's praise, Xi's path to lifetime rule has come under fire by many in China, who see it as a return to the dictatorial rule last imposed by former Chinese leader Mao Zedong. Mao led a violent tenure as chairman of the Chinese Communist Party from 1949 until his death in 1976, during which time millions were killed or persecuted.
"It's a historic retrogression," Li Datong, a former editor of state newspaper China Youth Daily who wrote an open letter criticizing the move, told the Washington Post. "Throughout history, only Chinese emperors and Mao Zedong had lifelong tenure until their deaths. And what came out of that was a disaster for the society and many painful lessons."
Mao's regime spurred the country to impose presidential term limits in 1982, kicking off a more open time for China that experts believe is now threatened by Xi's unrestricted rule.
"In the late 1970s and the early 1980s, China moved out of the Maoist era and away from one-man rule to collective leadership," Carl Minzner, who authored a new book about China's authoritarian rule, told the Guardian. "It moved away from cult of personality towards an effort to rule China through more stable, bureaucratic norms. What's happening now is that those things are beginning to buckle."
For the most part, political dissent isn't tolerated in China, with dissidents subject to harassment by officials or arrest. Social media posts discussing the vote — including those containing images of Winnie the Pooh, which Chinese users post to represent Xi as a way of circumventing the censors — have been blocked by Chinese authorities, the BBC reported.
Outside of mainland China, however, the move toward Xi's lifetime rule has sparked protest. Euro News reported that pro-democracy protesters in Hong Kong protested the proposed constitutional change in late February. Chinese students at Western universities have also launched their own movement against the move, putting up posters with such slogans as "Not my president" and "I disagree" at schools in the U.S., United Kingdom, Australia and other countries.
"By posting those bills, I want to impress on [my peers] that there is a significant change occurring in China," Wu Lebao, a student at Australian National University, told the BBC. "Xi has performed as a dictator for years since he went into power, but this move would give him more absolute power."
Described as "China's most dominant leader since Mao," Xi has ignited a cult of personality similar to Mao's and has spent his presidency consolidating his power. Xi's anti-corruption policies, the Journal of Democracy noted, have allowed the president to crack down against party dissenters and his own political rivals, enforcing loyalty to Xi and the Communist Party "through fear."
Xi's anti-corruption campaign has resulted in "some pretty significant pockets of discontent among powerful players," Elizabeth Economy, director for Asia studies at the Council on Foreign Relations and the author of an upcoming book about Xi, told the Guardian. "If somehow there is a weakness to be found, I think that his enemies will circle and go in for the kill. That's the greatest danger to him at this point."
Though the abolishment of term limits further concentrates Xi's power, it also could make him a "lightning rod" should a disaster arise, Economy said, adding that Xi "has basically assumed responsibility for whatever happens in the country."
Other experts have noted the potentially detrimental effects Xi's unfettered rule could have on the government's policymaking.
"Everyone expects that this will make Xi Jinping a stronger, more decisive leader, but it's also possible that he will need to justify this change by maintaining his popularity," Mary Gallagher, director of the Lieberthal-Rogel Center for Chinese Studies at the University of Michigan, told the Washington Post. "That doesn't bode well for difficult reforms ahead: Will the [Communist Party] be able to raise the retirement age? Enact a property tax?
"A second-term president with nothing to lose might have been in a better position to enact these changes and accept the blame before stepping down."
Steve Tsang, director of the China Institute at SOAS University of London, told the Post the abolishment of term limits largely silences the voices of Xi's dissenters when it comes to policymaking.
"If Xi is right, he will be more effective in getting his policies implemented," Tsang said. "But if Xi gets it wrong on any major policy matter, God (or Marx) help China, for there will be no one else who can."
Xi's policymaking tenure thus far has been marked largely by a greater imposition of the Chinese Communist Party into Chinese daily life. The president has created small "party committees" that have been inserted into both Chinese and foreign companies. He's also described his vision for education in China as one that exists to "develop builders and successors to the cause of socialism with Chinese characteristics, not bystanders or opposition groups," according to Bloomberg.
In addition to silencing his own rivals, Xi's now-limitless presidency has dashed hopes for democracy in China more broadly.
"In the past, both sides presumed China was trying to become more democratic," Orville Schell, director of the Center on U.S.-China Relations at the Asia Society in New York, told the Chicago Tribune. "What Xi marks so clearly is that there is no longer the pretension ... that China is becoming more democratic and open.
"We see now that history is not ineluctably moving toward democracy," Schell added. "History is just moving where it moves."