Betsy DeVos gets schooled on '60 Minutes'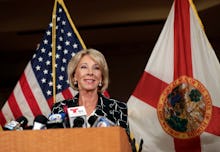 Education Secretary Betsy DeVos is under fire after a disastrous 60 Minutes interview that aired Sunday night in which she failed to answer basic questions on education policies she promotes.
DeVos, who supports "school choice," could not provide evidence that the policy helps students. School choice advocates support cutting public school funding and shifting it to charter, parochial and private schools.
"Why take away money from that school that's not working?" 60 Minutes reporter Lesley Stahl asked DeVos, which kicked off an embarrassing back-and-forth exchange in which DeVos
"Well, we should be funding and investing in students, not in school — school buildings, not in institutions, not in systems," DeVos said. It was a perplexing response, given that investing in students does mean improving the conditions in which they learn.
DeVos tried to provide examples of places where school choice has improved public schools. But she was backed into a corner when Stahl asked DeVos to explain how school choice has worked in Michigan, DeVos' home state.
From the interview transcript:
Stahl: Have the public schools in Michigan gotten better?
DeVos: I don't know. Overall, I — I can't say overall that they have all gotten better.
Stahl: The whole state is not doing well.
DeVos: Well, there are certainly lots of pockets where this — the students are doing well and —
Stahl: No, but your argument that if you take funds away that the schools will get better, is not working in Michigan where you had a huge impact and influence over the direction of the school system here.
Stahl: The public schools here are doing worse than they did.
DeVos: Michigan schools need to do better. There is no doubt about it.
Stahl: Have you seen the really bad schools? Maybe try to figure out what they're doing?
DeVos: I have not — I have not — I have not intentionally visited schools that are underperforming.
DeVos also spoke about her efforts to end education regulations implemented under former President Barack Obama's tenure, including rolling back Title IX guidance as well as guidance on transgender bathrooms.
DeVos is also debating ending Obama-era guidance that tried to "avoid and remedy discriminatory discipline" in classrooms.
Her reasoning for ending that guidance was puzzling.
"We are studying that rule. We need to ensure that all students have an opportunity to learn in a safe and nurturing environment. And all students means all students," DeVos said.