NCAA basketball: 2018 March Madness schedule, bracket — and how to win a tournament pool as a newbie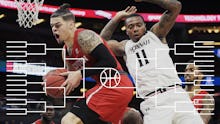 Part of the streaming masses watching live NCAA basketball — with money on the line? There's a reason why wealthy business owners and public figures like billionaire Warren Buffett keep pledging modest (and not-so-modest) fortunes to whomever can guess a perfect March Madness tournament bracket: The odds of guessing the correct victors for all games in the main bracket is about 1 in 9.2 quintillion, or 1 in 147.6 quintillion if you count the play-in games. That's far lower odds than even buying a winning lottery ticket.
And yet, the temptation of wagering on the tournament is difficult to resist: 70 million people filled out a bracket last year, with twice as many people putting money on the line as do during the Super Bowl, according to WalletHub. The average bet, the personal finance site found, was between $20 and $50.
Most of that betting tends to take place in the office, WalletHub found. And employers lose about $6.3 billion in productivity costs during the tournament, as employees tune in to day games or research the likely winners online. But at the same time, employers' hands may be tied: The costs to engagement from sunken morale might be even higher if bosses try to "suppress the 'madness,'" outplacement firm Challenger, Gray & Christmas told CNBC.
If you're planning on filling out a blank bracket and/or hiding in your office bathroom to watch, the first round starts at 12:15 p.m. Eastern Thursday with the Oklahoma-Rhode Island game. You can stream and watch the games live — and see the whole NCAA 2018 schedule — via NCAA.com, including the first round, second round, Sweet Sixteen, Elite Eight, Final Four and national championship.
Want a leg up in your pool?
Here are three strategies that can help you gain an edge in your office or personal March Madness brackets, whether you're a newbie guessing for fun — or if you're an experienced bettor in a high-stakes pool, like those Berkshire Hathaway employees shooting to win Buffett's promised $1 million a year for life for a perfect bracket.
1. Copy March Madness experts' brackets
To pick the best bracket, you really need to figure out the most likely upsets, which is tough to do, because four of the games are between eighth and ninth seeds, essentially a toss-up. The teams are also picked by a human committee, which some research suggests introduces bias into the selection process.
Some of the divisions are also a lot more competitive than others. This year, many are calling the Midwest the "region of death" because it contains powerhouses University of Kansas, Michigan State University and Duke University — three of the five most likely teams to win the whole thing, according to FiveThirtyEight.
If you haven't been following the intricacies of the season, you might consider finding an expert and simply copying their bracket. Back in 2012 Bleacher Report recommended newcomers copy ESPN analyst Jay Bilas verbatim as a surefire way to "simply to retain your dignity." This year, along with two of his other colleagues at ESPN, Bilas has Michigan State winning the tournament.
Want to add more nuance to your predictions? Cross reference your bracket with those of others crunching the probabilities — like the Washington Post's Neil Greenberg, who uses a systematic method for predicting upsets and has published his first round prognostications.
Sports Illustrated also has a write-up to help you get the lay of the land, and CBS has published a rundown of brackets selected by its own experts, a plurality (3 in 8) of whom pegged Duke as the winner. CNN published predicted winners, as well, from NCAA.com and SB Nation predicts Villanova University will win the championship.
2. Let mathematicians take the NCAA lead
To be sure, experts and journalists who watch every game can have biases of their own, which is why you may be tempted by a more analytical approach. FiveThirtyEight's statistical analysis differs a great deal from the expert consensus at ESPN and CBS, with their prediction showing University of Virginia and Villanova University as the two most likely winners.
And according to Yahoo, Virginia and Villanova are the two most common winners in users' brackets, at least so far — rhyming with the assessment of the bookkeepers, which at present favor those two schools, according to OddsShark, a site that tracks betting odds. You can see their odds on all of the teams in the NCAA tournament in tweet below.
The University of Illinois at Urbana-Champaign also produces BracketOdds, which runs statistical analyses on teams in each tournament, and developed a model that generates bracket results using data going back to 1985. Their model seems to favor Xavier University, also a No. 1 seed, but still a divergence from the consensus. (If you feel strongly about a possible winner but need help with the rest of your bracket, the site's authors recommend running the simulation until it spits out the winner you've guessed.)
Some other good rules of thumb? Tempting though it may be to pick all four No. 1 seeds as a "safe bet," consider doing the opposite: BracketOdds' data suggests that the odds of no No. 1 team appearing in the Final Four is 10 times more likely than the odds of all four top seeds advancing that far in the tournament. They recommend picking one or two top seeds, instead.
At the same time, it's also wise to be conservative in your expectations for an upset: The odds against even just one of the teams ranked in seeds 11 through 16 advancing all the way to the Sweet 16 is 22-to-1.
3. Flip a coin for March Madness — actually
While researching your bracket is part of the fun, there's some evidence that a less-is-more approach may actually be the better way to go as you read about the 64 teams in question.
Indeed, researchers at the University of Michigan ran an experiment that found just flipping a coin for each game might produce better results than an average person's thought-out selections. That study looked at two 2012 March Madness mock tournaments and controlled for age, bracket experience, game knowledge and gender. In that study, an average of three coin tosses outperformed all the human competitors.
In fact, more knowledgeable participants actually lost more money than those with less experience. That's possibly because the more confident you are in your selections, the more you bet — even if your odds of success are no higher than those for a person who has never watched basketball in their life.
Of course, as the researchers noted, the fact that March Madness puts experts and non-experts on a statistically level playing field is part of what makes it so fun in the first place.
To get started on your own bracket, you can print one out here — or join one of the many online tournaments sponsored and managed by companies like Yahoo and ESPN.
Watch NCAA basketball live and follow the 2018 March Madness TV schedule
Again, live streaming links are available through NCAA.com, and you can see the first round tournament schedule below.
First round: Thursday NCAA schedule
(10) Oklahoma vs. (7) Rhode Island: 12:15 p.m. Eastern
First round: Friday NCAA schedule
(10) Providence vs. (7) Texas A&M: 12:15 p.m. Eastern
Sign up for the Payoff — your weekly crash course on how to live your best financial life.
March 15, 2018, 10:15 a.m. Eastern: This story has been updated.