The government is on the verge of shutting down, again — here's why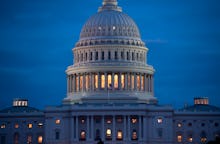 Welcome to Mic's daily read on Donald Trump's America. Want to receive this as a daily email in your inbox? Subscribe here.
Monday's dispatch: Two weeks till no funding
Congress faces yet another self-imposed deadline, this time on March 23, to pass legislation to fund the government or face a shutdown. But the dynamics of the debate over the next 11 days will likely be different from previous shutdown battles.
Multiple federal courts said President Donald Trump's deadline of March 5 for the expiration of the Deferred Action for Childhood Arrivals program was not legal. While that legal battle plays out, hundreds of thousands of DACA recipients can continue to live in the U.S. until their legal residency status expires. They can also renew their legal status.
This has effectively ended the pressure on Congress to act to protect DACA recipients, removing action on immigration from serious consideration on Capitol Hill after the Senate failed to pass comprehensive immigration legislation. Now, Bloomberg reported long-running partisan fights may derail a $1.29 trillion spending package congressional leaders aim to consider by Wednesday.
Conservatives want funding for Trump's border wall, the defunding of Planned Parenthood and of sanctuary cities as part of what has become the final must-pass budget bill of 2018. Democrats and moderate Republicans want to see a tunnel project between New York and New Jersey funded, which is a construction project Trump largely wants state and local governments to pay for. Democrats also want Republicans to guarantee DACA recipients will not be deported, as legal battles over the program continue.
Compromise is possible on several fronts, though defunding sanctuary cities or Planned Parenthood would be nonstarters for Democrats. But Republicans need their votes in the Senate to pass the budget legislation.
Meanwhile, the results of Tuesday's special U.S. House election in Pennsylvania could also impact the negotiations. If Republicans feel they're on track to lose control of the House, they may feel compelled to seek deeper concessions through the final must-pass spending bill of the year. Wins in Pennsylvania could also lead Democrats, sensing a return to power, to dig in their heels.
If past is prologue, one thing is certain: Congress will use every available minute to reach a deal to keep the government open.
Today's question: Who has more to lose from another shutdown?
Please email us at trumpsamerica@mic.com with your thoughts.
This week in Trump's America
Pennsylvania: Republicans are gearing up for a close race on Tuesday, perhaps even a loss, in a special U.S. House election in a district Trump won by 30 percentage points in 2016. GOP groups have spent more than $10 million to prop up state legislator Rick Saccone, including a controversial visit from Trump on Saturday night, against surging Democratic candidate Conor Lamb. A loss in the race, a contest over a suburban and rural, traditionally Republican district, would suggest to many in the GOP that are on track to lose the House in the fall.
In that weekend speech, Trump returned to campaign mode. He said the country should consider a death penalty for drug dealers. CNN annotated the 64 top lines from Trump's free-wheeling address.
Banking vote: The Senate is expected to vote this week to pass legislation that rolls back regulations on large banks. The issue is creating a rift between some moderate Democrats up for re-election in 2018 and the majority of Senate Democrats who do not want to see the Dodd-Frank Act weakened.
Gun vote: The House will vote this week on a bill that brings additional funding to school safety programs. It does not address firearms.
Guns: The White House released its school safety plan on Sunday. It focuses on empowering states to make choices about how best to protect students, with an emphasis on programs to arm teachers. That idea is a nonstarter among many congressional and state leaders.
The U.S. Department of Justice also took a step toward banning bump stocks over the weekend, which the agency previously had said it does not have the authority to do.
Betsy DeVos: The secretary of education struggled to answer several questions about U.S. schools and universities during a 60 Minutes interview that aired Sunday night. DeVos said she did not know whether there are as many false accusations of sexual assault at colleges as true sexual assaults. She also had difficulty articulating why the federal government should divest from public schools and could not explain how funding charter schools has improved education in her home state of Michigan.
Meanwhile, the White House announced Sunday that DeVos will chair a national task force to investigate how to make schools safer.
Stormy Daniels: After filming an interview with 60 Minutes, set to air next Sunday, porn actress Stormy Daniels and the news show are facing potential legal action from Trump's attorneys who believe the segment cannot be aired. Daniels allegedly had an affair with Trump in 2006.
China: As expected, the Chinese communist party amended its constitution to do away with term limits. That allows President Xi Jinping to rule indefinitely. Until now, Chinese presidents served no longer than five years to prevent any leader from creating a cult of personality.
Evangelicals: Trump still enjoys the support of the vast majority of white evangelicals. This has led to a split along racial lines between devoted evangelical Christians, with black evangelicals slowly and quietly leaving white churches, the New York Times reported.
The perennial swing state: Democrats in Ohio are trying to carve a populist message that will win over working-class voters in the Trump era.
Today's MicBite:
Sovereign citizens are one of the biggest domestic terror threats in the U.S. that you've probably never heard of. Jack Smith IV reports on the growing movement.