Taylor Swift's new music video accused of ripping off a 2016 Spike Jonze-directed Kenzo ad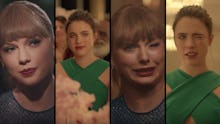 On Sunday night during the iHeartRadio Music Awards, Taylor Swift released the music video for "Delicate," the fourth single off of her 2017 album Reputation. In the video, directed by her longtime collaborator Joseph Kahn, Swift eschews playing the victim in favor of shaking, shimmying, even crawling (barefoot on the Los Angeles metro, no less).
The song, according to Swift, describes "what happens when you meet somebody that you really want in your life and then you start worrying about what they've heard before they met you."
And the video largely follows this narrative, with a vacant looking Swift attending a film premiere before slipping into a kind of La La Land fantasy world in which she dances through a hotel lobby undetected before escaping into the rainy streets where she does a split while sliding down a car windshield.
And while Swifties might be quick to declare this another victory, some are calling the video a blatant rip-off a 2016 Kenzo fragrance ad directed by Spike Jonze, starring The Leftovers' Margaret Qualley.
The plots: similar. The dresses: very similar. The setting: that too. The facial ticks and overzealous dance moves: nearly identical.
Have a look for yourself:
Of course, the internet being the internet, many were quick to take note, but none more dutiful than New York's Kenny Wassus, who pointed out some frame-for-frame similarities.
He wasn't the only one.
Some even drew comparisons to Maddie Ziegler in Sia videos and Britney Spears' 2000 video for the song "Lucky."
Of course, the line between an artist being influenced by others and stealing from others is a thin one, but either way, the similarities are nearly indisputable.