For ballerina Misty Copeland, NYC is full of memories — particularly at the Red Lobster in Queens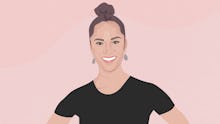 In My Happy Place, we talk to some of our favorite people about their emotional connection with an unforgettable destination.
American ballet dancer Misty Copeland is the rare ballerina who has become a household name. In June 2015, Copeland became the first African-American female principal dancer with the American Ballet Theater. But her graceful presence and powerful dancing had captivated the world even before then — she was named one of Time magazine's top 100 influential people in April 2015.
Since then, Copeland, 35, has appeared in an Under Armour ad campaign featuring resilient women and also became a face of Estée Lauder. One of her latest ventures is a partnership with Naked Juice to introduce the brand's new Fruit, Nut and Veggie bars. Mic spoke to Copeland at a media event promoting the launch.
When asked about a place that made a lasting impression, Copeland didn't hesitate: "New York is my happy place. It's given me so much," she said. Copeland first visited New York City when she was 16 in order to study with the American Ballet Theatre, a prestigious, classical ballet company that stages performances at the Metropolitan Opera House in New York City. Copeland moved to the Upper West Side when she was 17. "As soon as I graduated high school, I was on a plane!" she said.
Coming from Los Angeles, where she grew up, Copeland was initially put off by the grime of the Big Apple. "I was like 'It's so dirty! Why is there trash on the streets?" she said. But she adjusted to the pace and knew that this was where she wanted to launch her career as a ballerina. Living in New York provided many professional opportunities, but it also helped Copeland grow up in more ways than one.
Her appreciation of fashion reached a new level in New York City. "Just seeing people on the street [taught me so much]," she said. "What I saw people wearing was so confident and unique that it gave me a perspective and understanding of fashion that was about expressing oneself."
Her childhood relationship with fast food
"It's taught me how to take care of myself in a way that I don't know I would have learned living in any other part of the world," she said. Her new home of New York City played a large role in helping Copeland take control of her health through food. "I didn't grow up with my mother cooking so it was all so foreign to me," she said. "I grew up in a single-parent home. And we ate a lot of fast food and whatever was cheap and available." Copeland said her family ate "way too much" Taco Bell: "It was what my mother would turn to on late nights after work and it was all we could really afford," she added.  
When Copeland first arrived in NYC, she traveled through the city's boroughs on her days off from dancing. "I spent a lot of time in Central Park writing in my journal and listening to music," Copeland said. "Or I'd wander around SoHo with my best friend or head to Queens for Red Lobster since it was the only NYC borough that had it at that time."
Finding her way to the kitchen
As a teenager, Copeland lived with another ballerina and her family. To fuel herself with healthy meals and snacks, she began using a George Foreman grill and later watched the Food Network and reading cookbooks for inspiration. "That's when I really started to reassess the fact that my body is my instrument. It's like a machine and it needs to be well oiled and fine tuned," she explained.
These days when cooking at home, Copeland keeps it simple and loves roasting vegetables, baking fish or making cauliflower "mash," a creamy substitute for mashed potatoes.
But when she's on tour or working long days rehearsing in NYC, she depends on good-fat snacks to fuel her, which made the partnership with Naked a natural fit. "I would have nuts and dried fruit and things like that just in my dance bag. To have it all combined together into the Naked Fruit, Nut and Veggie Bar is just really easy and delicious," she said.
In the rare times that she's in New York City — and not off on a tour — Copeland likes to stroll around her neighborhood, the Upper West Side. "I live for Cafe Luxembourg," Copeland said, explaining that her go-to order is mussels and frites. Ed's Chowder House, The Mermaid Inn, and The Smith are her other neighborhood favorites.
Copeland has lived in NYC for 18 years and has grown along with the city itself. She used to frequent Club Lotus, one of her favorite places in NYC, but it closed in 2008.
"It was down in the Meatpacking [District] and there was a wonderful restaurant attached to it, but there was also a nightclub that was, like, the hottest place to be," Copeland laughed, saying that she met her husband there but that neither of them are 21 and hitting the club scene any more. "Nowhere will replace Lotus and that time in my life."