Wisconsin students will march to Paul Ryan's hometown to demand action on gun control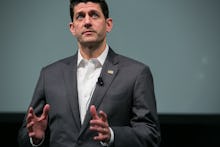 Student activists are taking the fight for gun control legislation to the streets, to Capitol Hill and on March 25, directly to Paul Ryan's town.
The day after March for Our Lives walkouts are scheduled to take place across the nation on March 24, students in Wisconsin are gearing up for a 50-mile trek from the state capital of Madison to House Speaker Ryan's hometown of Janesville.
Dubbed the "March for Our Lives: 50 Miles More," a mission statement for the four-day event says that it was planned with the intention of "keep[ing] the national spotlight on gun reform" through continued engagement "so that no child will live in fear of gun violence."
"It has been 19 years since Columbine, and we are still waiting for real change to be made," the website reads. "We are tired of waiting. Adults have said that nothing can be done, but students are finding a way. Our brave peers from Parkland are already having a huge impact in Florida and across the country, and we aim to do the same in our communities and across the nation."
The march is the latest direct action event planned in the aftermath of the Feb. 14 mass shooting in Parkland, Florida, that killed 17 students and faculty members. After the shooting, many of the teenage survivors have become some of the most recognizable faces of the fight for U.S. gun safety legislation. Across the country, young people have been quick to rally to their sides in solidarity.
Katie Eder, a co-leader of the 50 Miles More march and a senior at Shorewood High School in Wisconsin, said that while members of the media and politicians are historically known to pivot away from the issue of gun violence after a mass shooting, she and her fellow organizers are working to ensure that won't happen now.
"We have grown up experiencing school shootings followed by this inaction, and we refuse to let it happen this time," she said in a press release. "We want to make sure that when the March For Our Lives events end on the 24th, people don't stop talking and thinking about the need for gun reform."
According its website, the group lists among its demands raising the legal purchasing age of guns to 21, required background checks to purchase firearms, a four day waiting period on all gun purchases and a ban on military-style weapons and accessories to turn semi-automatic weapons into automatic weapons, such as bump stocks.