Hedge fund manager with ties to Donald Trump Jr. granted special access to top government officials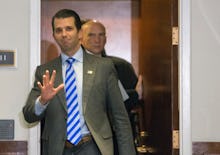 New details have emerged about business ties between first son Donald Trump Jr. and a Texas hedge fund manager who has repeatedly met with top officials in the Trump administration, raising ethical concerns, the Associated Press reported Monday.
Mic reported in April that the hedge fund manager, Gentry Beach, attended a series of White House meetings with the goal of getting the U.S. to remove sanctions against Venezuela. At the time, the Trump Organization told Mic that Trump Jr.'s relationship with Beach was "strictly personal."
According to the AP, however, Trump Jr. recently launched Future Venture LLC with Beach, and their business relationship actually dates back to the mid-2000s. Trump Jr. has been named president, secretary and treasurer of Future Venture.
Even before Trump Jr.'s business ties to Beach were revealed, ethics lawyers said the access Beach had to top Trump officials was ethically dubious.
"In the Bush administration, if these types of meetings were set up, we would've said no," Richard Painter, former President George W. Bush's chief White House ethics lawyer, said in a previous interview with Mic. "I would not have approved of this type of meeting."
However, the fact Trump Jr. is currently in business with Beach is likely to raise even more questions about Beach's access. Similarly, the AP reported that Beach has had more meetings with top Trump officials since April, including a private lunch with Interior Secretary Ryan Zinke.
Beach, for his part, denied his relationship with Trump Jr. gained him special access. He told the AP in a statement that it is "absolutely not true" that he "used my longtime personal friendship with Donald Trump Jr." to influence policy.