Richard Spencer suspending the rest of his college tour because "antifa is winning"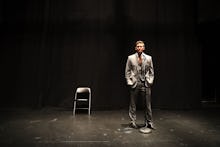 If the mainstream media is to be believed, anti-fascist protesters, otherwise known as "antifa," are a bad look for the progressive movement — a stain on the otherwise-peaceful left. After 2016's summer spate of right-wing rallies, the Washington Post published an op-ed calling anti-fascists "the moral equivalent of neo-Nazis." Trevor Noah called antifa "vegan ISIS" on The Daily Show.
However, while the antifa movement might not have broad public approval, it appears to be achieving its goals.
On Sunday, white nationalist figurehead Richard Spencer announced that he intends on halting upcoming public speaking appearances. In a YouTube video, Spencer said anti-fascist violence is creating too great a risk for him to continue his college tour. Spencer's college talks were one of the few regular events that reliably produced national publicity for the so-called alt-right.
"I really hate to say this, and I definitely hesitate to say this: Antifa is winning to the extent that they're willing to go further than anyone else, in the sense that they will do things in terms of just violence, intimidating and general nastiness," Spencer said in the video.
Spencer's 24-minute lament came after a pair of botched campus appearances. The first was in October, when Spencer shouted at an audience mostly comprised of hecklers in Gainesville, Florida, while outside, several of his supporters were arrested for attempted homicide. The other instance was on March 5 in East Lansing, Michigan, where the number of people arrested for street brawling was higher than the number that actually attended Spencer's talk.
Spencer said by email that he's "definitely not ending all future public or collegiate events," instead saying, "We need to find a new model; the current one is simply not working."
Anti-fascist street violence began around the same time as President Donald Trump's inauguration. Since the infamous Unite the Right rally in Charlottesville, Virginia, in August, where anti-racist activist Heather Heyer died protesting the event organized in part by Spencer, anti-fascist action has escalated. Spencer's white nationalist think tank, the National Policy Institute, couldn't secure a venue for its 2017 conference because of liability costs, and had to instead hold the conference in a barn. When they were kicked out of the barn, they had to move the event to a local bar, where they were kicked out again.
Spencer later clarified to Mic that he didn't have any scheduled appearances lined up, so there were "no definite date[s]" to cancel.
"At least of the foreseeable future, I don't think it's a good idea for me to host an event that's wide open to the public in which we name a date and a time," Spencer said. "Because if we do that in advance, antifa are going to do their thing."
March 13, 2018, 10:48 a.m.: This story has been updated with additional comment from Richard Spencer.