Win or lose, the special election in Pennsylvania's 18th District is bad news for Republicans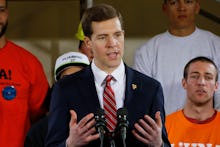 It's unclear who's most likely to win as voters head to the polls Tuesday for a special election in Pennsylvania's 18th Congressional District. But no matter the outcome, the race points to troubling signs ahead for the Republican Party.
Polls show the race between candidates Rick Saccone (R) and Conor Lamb (D) is exceedingly close, with election analysts rating the race a toss-up. That fact alone is bad news for Republicans, who have easily carried this suburban Pittsburgh district for years.
President Donald Trump won the district by a 19-point margin in 2016, while GOP nominee Mitt Romney carried it by a 17-point spread four years earlier.
Republicans are preemptively trashing Saccone, the GOP nominee, in an effort to blame any possible loss on the candidate versus the party itself, especially in light of Trump's poor approval ratings.
However, even a typical Republican candidate like Saccone should be able to carry a seat this red.
Unlike failed Republican Senate candidate Roy Moore, Saccone doesn't have any unsavory allegations from his past (that we know of). He does have a conservative voting record from the decade he's spent in the Pennsylvania House of Representatives, which theoretically should be a positive in a strong Republican strongold like this one.
Even worse for Republicans is that outside groups have now spent more than $10 million to try and push Saccone to victory over Lamb, an attorney and veteran of the Marine Corps.
That's a massive amount of money for a single House district — especially this one, which won't even exist in November thanks to a new congressional map from the Pennsylvania Supreme Court. And it's an unsustainable spending rate if similar Republican-heavy districts become competitive in the November midterm elections.
Many of the Republican ads have tried to paint Lamb as a liberal who didn't back the GOP's tax reform bill and who would be a puppet for House Minority Leader Nancy Pelosi. But the GOP ditched that messaging in the final stretch of the race, an indicator the message was not sticking.
Running on tax reform — and against Pelosi — is the GOP's game plan for the midterms. If that messaging doesn't work in a seat Trump won by nearly 20 points, that's bad news for Republicans in other, more competitive seats in the fall.
Similarly, Trump himself endorsed and campaigned for Saccone, including a Saturday night rally in the district. If Trump can't boost a GOP candidate in a seat this Republican, that looks like bad news for the party in November.
Tuesday's contest is being held to replace former Rep. Tim Murphy (R-Penn.), who resigned in disgrace in 2017 after news broke that he had pressured a mistress to have an abortion.