Study: Barbershops are a critical space for helping black men lower high blood pressure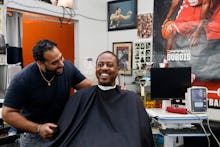 Historically, barbershops are a space where black men have found a community to be seen, felt and empowered.
The intimate culture has been captured in photo essays, documentaries and films like director Tim Story's cult classic Barbershop. "For all the regressive politics about sexuality or gender it sometimes harbors, the black barbershop has remained a space of pride, community and reflection across generations, much in the same way the black church has," Jason Parham wrote for Fader in 2017. The culture of trust in barbershops has also made it a critical space for health interventions for black men.
One specific program successfully aided black men in controlling their blood pressure, an issue that disproportionately affects the demographic. According to a study published in the New England Journal of Medicine, researchers found that when barbers and pharmacists teamed up to provide patrons with "interventional therapy," participants saw a significant decline in their blood pressure.
"When we provide convenient and rigorous medical care to African-American men by coming to them — in this case having pharmacists deliver that care in barbershops — blood pressure can be controlled and lives can be saved," Ronald G. Victor, the study's lead author, told ScienceDaily.com.
Study participants were divided into two focus groups of men aged 35 to 79. One group received intervention from both their barber and a pharmacist, who visited the shop once a month and provided further education. Nearly two-thirds of patrons in this group brought their blood pressure down to a healthy number after six months.
The second group received standard therapy from their barber. After six months, 11.7% of men in this group saw their blood pressure decrease to a healthy point.
"High blood pressure disproportionately affects the African-American community, and we must find new ways to reach out so we can prevent strokes, heart attacks, heart failure and early deaths," Victor said.
The percentage of hypertensive black men with controlled blood pressure levels increased between 1999-2004 and 2009-2010, according to a 2014 study published in the American Journal of the Medical Sciences. But high blood pressure continues to be more prevalent among black men than it is among white men, Mexican-American men and black women.
This disparity is influenced by several factors, including black men's experiences with racism and discrimination, access to health insurance, mistrust for the health care system and social support, the report further detailed.
Left untreated, high blood pressure can damage blood vessels throughout the body, according to the American Heart Association. Without intervention, these issues can also damage the heart, brain, kidneys or eyes.
"A big takeaway from this study is to release the fears," Eric Muhammad, the owner of an Inglewood barbershop and co-author, told ScienceDaily.com. "We cannot fear what the doctor will tell us. Dr. Victor has a very sincere desire to bring down blood pressure in people in general, and in black men in particular. Since I could see his heart in this, it was easy for me to offer assistance."