Partisan pundits and conspiracy theorists still rule Facebook, analysis shows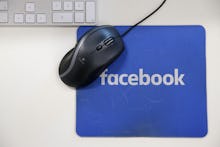 Many of the most engaging journalists on Facebook write for highly partisan websites, and at least two highly engaging so-called journalists wrote for websites that have been classified as fake news sites, according to a new analysis about engagement on the social media platform.
The analysis, conducted by the social media analytics site Newswhip, shows that journalists who write for hyperpartisan and hoax news sites drive a high amount of engagement — i.e. likes, shares, reactions and comments — on the platform. Newswhip's analysis looked at engagement on Facebook throughout February before ranking and analyzing 82 of the most engaging reporters.
Of the top 10 reporters who drove the most engagement, Newswhip found that three came from the conservative viral news website Daily Wire, which was launched by former Breitbart editor-at-large Ben Shapiro — who is the sixth most engaging reporter on Facebook, attracting more than 1.9 million likes, shares, comments and reactions on articles he bylined in the study's timeframe. Two other top-performing reporters were from the left-wing viral news site Truth Examiner; Jonah Urich, who writes for TruthExam.com, had more than 2.2 million like, shares, reactions and comments on articles he had written in the timeframe.
"The top authors were primarily from hyperpartisan sources like the Daily Wire, Truth Examiner, Breitbart, Washington Press and several small but politically charged sites," the analysis says.
Out of the 82 highest-performing reporters and authors on Facebook, 32 were outwardly conservative, while six were outwardly liberal, Newswhip said. The most shared journalist on the platform was Ryan Shattuck, a writer for the Onion, but Newswhip chalked that result up to a mistake because Shattuck mistakenly received attribution for all of the Onion's un-bylined stories in Newswhip's metadata.
Two of the most engaging authors on Facebook wrote for explicitly fake news sites. Baxter Dmitry, an author for the fake news site Your News Wire, wrote 81 articles in February, all of which drove more than 1.7 million Facebook interactions. Another author for the fake news website Neon Nettle was ranked 38th in Facebook engagements, Newswhip found.
Both Your News Wire and Neon Nettle have published a number of demonstrably false articles, and have promoted and amplified hoax news stories and conspiracy theories.
The analysis indicates the power of the ultra-partisan and fake news, and the engagement it continues to drive on social media. The presence and reach of authors for the two fake news websites also shows that Facebook has continued to struggle to crack down on fake and hoax news on its platform.
Facebook, which in January announced a number of changes to its to prioritize posts from family and friends, has said it is committed to removing the financial incentives for fake news by banning publishers who publish fake stories from using the social media site's advertising platform. On Wednesday, Facebook and the Associated Press announced a partnership to provide fact-checks and debunk fake news during the 2018 midterm elections.
However, it seems Facebook's algorithm changes have not seemed to scare away some of the publishers who have previously run fake stories. The person behind Truth Examiner, for instance, is Cyrus Massoumi, who founded and ran a number of ultra-conservative websites and Facebook pages to cash in on ad revenue before an algorithm change in November 2016 forced him to alter his course. Truth Examiner, his new venture, leans highly partisan but avoids outright fabrication.
A study published in Science in March found that false news reaches a larger audience than the real news does, which researches chalked up to "the degree of novelty and the emotional reactions of the recipients."
March 14, 2018, 3:56 p.m.: This article has been updated.