Sasha Velour on RuPaul's transphobic comments: I hope it will kick-start "a new era of drag"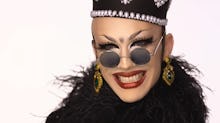 RuPaul Charles, drag legend and host of RuPaul's Drag Race, recently sent the Drag Race fandom into a frenzy when he suggested trans people who had altered their bodies — such as through hormones or breast implants — wouldn't be eligible to compete on the show.
Ru seemingly doubled down on these comments later, implying on Twitter that a trans queen on Drag Race would be akin to an Olympic athlete taking performance-enhancing drugs. After near-universal backlash from the Drag Race community and from Drag Race alumni, Ru finally apologized on Twitter.
In a phone interview with Mic Monday afternoon, Drag Race's reigning queen, Sasha Velour, weighed in.
"I think a lot of people who have been involved with the show were surprised that we were having the conversation in some ways, because Peppermint had succeeded [on season 9] and been so welcomed — not just by the other contestants, but by the show itself, by RuPaul," Velour said. "I think Drag Race has made an effort to be increasingly trans-inclusive, so it was surprising to see something that seemed to suggest a different situation." (According to the Guardian, Ru argued Peppermint was eligible for Drag Race because she "didn't get breast implants until after she left" the show.)
Though she was disappointed in Ru's comments, Velour said she was also concerned about the repercussions they'd have on future Drag Race hopefuls.
"I was worried that people would just not audition for the next season — that trans women and nonbinary contestants would not audition [anymore]," Velour said. "Because I know Drag Race wants them to audition. That's the truth of the matter."
Velour implied there was a difference between Ru's views and those of the drag community at large, in this case.
"I'm an optimist [so] I would like to say most people working in drag understand that the community and the history has always been about many different genders," she said. "Trans people, AFAB [people assigned female at birth], nonbinary people have all been part of the tapestry of drag since the beginning. In fact, sometimes it's been mostly those people, not cis men. And I think we all want to fight to keep that the case."
As other critics have pointed out, Velour noted how strangely "ahistorical" Ru's comments were. This is especially since Ru has a habit of emphasizing how important it is for queens to know their history, just as recently as episode 5 of All Stars 3.
"A lot of the history of drag is rumor and hearsay, I find. But in terms of the makeup of drag in New York, which is some of the most documented — in the '60s, like around the The Queen documentary or around the time of the Stonewall riots or even earlier, like the first Harlem balls in the turn of the [20th] century — there are trans people everywhere you look," Velour said.
Velour also added that she hopes that Ru's misstep would ultimately steer the drag world somewhere better.
"We don't want to burn anything to the ground; we just want to build better, stronger cities," Velour said. "In my fantasies, this will be the beginning of a whole new era of drag where the fluidity of gender is really celebrated, including on television."