Report: Roger Stone told associates that Julian Assange briefed him on stolen emails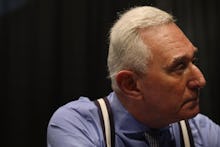 Roger Stone, a close ally of and unofficial adviser to President Donald Trump, claimed in early 2016 that WikiLeaks founder Julian Assange told him his organization had obtained stolen emails that could damage Hillary Clinton's presidential campaign, the Washington Post reported Tuesday.
Two associates of Stone — former Trump advisor Sam Nunberg and another who spoke to the Post on condition of anonymity — said Monday that Stone told them in the spring of 2016 that he'd learned WikiLeaks had accessed emails belonging to John Podesta, Clinton's campaign chair at the time.
If true, the accounts would confirm Stone knew about the Podesta and Democratic National Committee email hacks months before their release.
Nunberg has described the alleged conversation in interviews with special counsel Robert Mueller, according to the Post.
Stone denied the Post's reporting, telling the paper his comment to Nunberg about talking to Assange was a misinterpreted "joke" and that he had no prior knowledge of the stolen emails.
In the final stretch of the 2016 race, however, Stone bragged about being in contact with the WikiLeaks founder and strongly suggested he knew about the hacked emails. In an Aug. 8, 2016, appearance at the Southwest Broward Republican Organization, he was asked about a possible "October surprise" from Assange.
"I actually have communicated with Assange," Stone said. "I believe the next tranche of his documents pertain to the Clinton Foundation, but there's no telling what the October surprise may be."
Later that month, Stone tweeted it would soon be "Podesta's time in the barrel." On Oct. 5, he tweeted there was a "payload coming."
Days later, WikiLeaks published thousands of Podesta emails related to the Clinton Foundation, along with partial transcripts of closed-door speeches Clinton had given to Wall Street giants.
"It's a reasonable conclusion that Mr. Stone had advanced warning and the Trump campaign had advanced warning about what Assange was going to do," Podesta said at the time, according to the Guardian.
Brian Fallon, then a spokesperson for the Clinton campaign, accused Assange of "colluding with [the] Russian government to help Trump."
In February, Assange dismissed the allegation he had contact with Stone.
However, several individuals in Trump's orbit had confirmed contacts with Assange's organization in 2016.
The president's eldest son, Donald Trump Jr., exchanged a series of messages with WikiLeaks in October 2016 in which he appeared to coordinate with the organization.
Jared Kushner, Trump's son-in-law and senior adviser, came under scrutiny in November after it was revealed he'd failed to provide Senate investigators with a 2016 email related to WikiLeaks.
Cambridge Analytica CEO Alexander Nix, the Trump campaign's data chief, reportedly tried to enlist Assange's help obtaining thousands of Clinton's deleted emails in 2016.
Trump himself is not known to have directly communicated with Assange, though he did praise the organization repeatedly in the weeks leading up to the election.
"WikiLeaks," Trump said in October of that year. "I love WikiLeaks."
WikiLeaks has been under significant scrutiny as Mueller investigates possible collusion between the Trump campaign and the Kremlin. The organization is considered by U.S. intelligence to be a "non-state hostile intelligence service often abetted by state actors like Russia," as incoming Secretary of State Mike Pompeo described it in 2017, when he was director of the CIA.
In an unhinged March 2017 online rant, Stone claimed to have had a "perfectly legal back channel to Assange who indeed had the goods on #CrookedHillary."