Donald Trump Jr.: Senate Intel Committee is more credible than House Intel Committee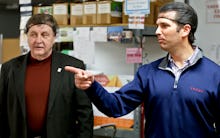 First son Donald Trump Jr. headed over to the Fox & Friends set Tuesday morning to take a victory lap on the House Intelligence Committee report drafted by Republicans that claims their investigation found that the Trump campaign didn't collude with Russia.
However, he quickly veered off message, asserting that the Senate Intelligence Committee, which is conducting its own Russia investigation and has yet to complete it nor announce its findings is more credible than its House counterpart.
"Those guys actually seemed like they were trying to get the facts," Trump Jr. said of the Senate Intelligence Committee, adding that the questions from the House Intelligence Committee were "literally about looking for a sound bite."
The House Intelligence Committee has come under fire for partisan sniping led by the Republican members, who appear to be using the committee to try and run cover for Trump during Special Counsel Robert Mueller's investigation.
The committee's chairman Devin Nunes (R-Calif.) helped boost President Donald Trump's accusation that former President Barack Obama wiretapped Trump Tower — a claim that's been proven false.
Nunes also helped author a memo that used cherry-picked facts in an effort to discredit Mueller's investigation, and helped block the Democrats on the committee from releasing a counter memo.
Nunes' memo ended up being a dud, and ultimately wound up confirming that the Russia investigation is legitimate.
The GOP-led House Intelligence Committee's decision to end their probe and declare that no collusion existed comes as Mueller is actually expanding his probe, after uncovering evidence that the Trump administration was seeking to set up a backchannel line of communication to Russia.
Trump, however, is declaring victory thanks to the House Intelligence Committee's announcement.
"THE HOUSE INTELLIGENCE COMMITTEE HAS, AFTER A 14 MONTH LONG IN-DEPTH INVESTIGATION, FOUND NO EVIDENCE OF COLLUSION OR COORDINATION BETWEEN THE TRUMP CAMPAIGN AND RUSSIA TO INFLUENCE THE 2016 PRESIDENTIAL ELECTION," Trump tweeted Monday night in all caps.