How CupcakKe's jaw-droppingly raunchy raps helped make her a legend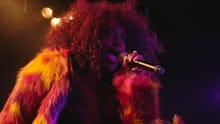 At 20 years old, rapper Elizabeth Eden Harris — aka CupcakKe, aka Marilyn MonHOE — is a self-made phenom with a come-up so juiced, it's no wonder her mouth gets so wet. (Those are her words.)
When her mixtape Cum Cake landed on Rolling Stone's "40 Best Rap Albums of 2016," the magazine called her "an artist with a strong grasp of both human nature and fellatio jokes." That's putting it lightly: CupcakKe's lyrics and live shows are so sexually explicit they make Lil Wayne sound like Kidz Bop. And her often sold-out tour dates show her fans can't get enough.
"They come to me in these meet-and-greets and be like, 'I just sucked 100 dicks,' and I just be like, 'hehe,'" CupcakKe said in an on-camera interview. "Don't talk to me about that when we at a meet-and-greet. But when we onstage as CupcakKe, you can scream that out all day long, and I'mma say, 'I just sucked 400.'"
The rapper followed up Cum Cake with the mixtape STD (Shelters to Deltas) and the debut album Audacious — three releases in a nine-month span. Her second studio album, 2017's Queen Elizabitch, earned more positive reviews. "She turns any semblance of respectability politics inside out, walking in a truth, exaggerated or not, that she's earned the right to tell," wrote Pitchfork. And in February, she released another album, Ephorize, which Vulture called "a crystallization of her best and weirdest instincts refined by a tighter control of her instrument and a fearless, earnest creativity."
Born in Chicago and raised by a single mother, CupcakKe honed her talents at church, writing and performing poetry before her congregation. One day, she said, "This guy was like, 'You know, I think you should transition into rap, because you'll make money that way.' And I did it immediately ... and I never turned back to performing poetry."
Did she have a moment early on where someone affirmed her talents? "I get that a lot," she said. "Not to be cocky, but … everyone be like, 'You're really good at rapping.'"
In 2015, when she was 18, she released her first single, "Vagina," an ode to ... well, you get it, with a hook that repeats: "Slurp that dick 'til it cum" before adding: "Smack my ass like a drum."
"I was in bed and, like, shit, you know … 'slurp that dick till it cum,'" she explained. "As I was writing, I was listening to Khia's 'My Neck, My Back.' I was listening to her and I was just like, I like this sexual side. And then I was horny at the moment. And so I was like, you know, why not? Why not let it all out through the paper?" By the time she took the song into the studio, her producers' jaws were on the floor. She now nicknames her fans "slurpers."
The hits kept on coming: "Deepthroat," "Juicy Coochie," "Best Dick Sucker," "Spider-Man Dick," "Cumshot." But there are also more serious tracks like "Pedophile," a song about a girl's experience with a predatory older man. CupcakKe said she's faced her own share of creeps: "When I was 14, I probably looked 20. … Older guys, I even told them, 'Hey, this is my age.' And people still be like, 'Oh, it don't matter.' So … for me to speak up about it, a lot of other young girls, they're gonna speak up about it, so it's definitely powerful."
There's also "LGBT," an ode to a community that's found a haven in her music. "When I was writing it, I didn't just want to touch on gay, guy-on-guy, I tried to touch on girl-on-girl, [and] transgender [people]; I tried to touch on all the shit. … Transgender [people] are people; we should treat them equal. I tried to name them all, because I didn't want to make them feel left out. It's just the anthem."
CupcakKe aims to create music for the marginalized. "It's for the young generation, it's for people … getting bullied, it's for young girls … dealing with rape, it's for the LGBT community, it's for anyone you can name. It's for everyone."
CupcakKe is heralded as body positive and sex positive, but the rapper pushes back on those labels. She sees her love of sex and her body as natural — "It's just in me" — and not some sort of transgressive or empowering statement. "I feel sexy at every moment. Even now, when I'm all covered up, I still feel like I'm beautiful as fuck," she said.
"I never heard the word 'fat' until I started putting out videos and shit," she said. "Everyone [in the YouTube comments] be like, 'Oh, this fat whore, she fat like this, she fat like that.' So seeing it for the first time was like, 'wow,' but [then] I was just like, 'hey, fuck you.' I'm still going to eat Burger King, McDonald's, tacos and everything else, so, fuck you. Ain't shit gonna change."
She tries to bring that DGAF attitude into her dating life as well. After one guy told her she'd be more famous and prettier if she were skinnier, she said, "I was like, 'What the fuck?' So of course he got kicked the fuck out."
According to her, society has got to stop idolizing these size-0s and 1s, and instead look inward. "I came across this girl, she's a size 4, and she was like, 'I'm fat.' And I'm just like, 'Nooo, you're motherfucking beautiful.' People just have to be comfortable within themselves."
As for the sex: "I think it's just, like, the way I come off. We all fuck, we're all human beings, it's just the way I come off. … It's not just like, 'Oh, I'm about to go lick a banana.' It's like, I'm real blunt with it, I'm like, 'Hey, about to go suck a dick, y'all.' That's what it is." She calls the final one-liner in the clip below "the most iconic shit I've ever said in my life."
CupcakKe is acutely aware of the challenges presented to female rappers who try to conquer a predominantly male space. "When a female say, 'Hey, I'm a rapper,' [others] be like, 'Oh, female rapper.' … You gotta prove, 'Motherfucka, I can rap better than you.' … It's a lot of ways women have to work harder than a male."
But hard work comes easy for the rapper, who is currently playing sold-out houses on the U.S. and European legs of her Ephorize tour. "I just wanna stay giving a positive message out, stay informing people on how to suck the penis the correct way, because a lot of people don't do it right. There's a right and wrong way to everything. So I'm just telling them the right way to do it, and I just want to continue being the great person that I am, and whatever greatness coming in, I wanna share my blessings, and that's mainly it."