Trump is known for creating commissions he doesn't listen to. Will school safety be different?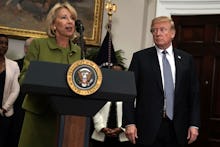 Welcome to Mic's daily read on Donald Trump's America. Want to receive this as a daily email in your inbox? Subscribe here.
Tuesday's dispatch: Will the school safety commission be different?
President Donald Trump raised eyebrows over the weekend when he said commissions are not effective at stopping crime — then created a commission to improve school safety. Education Secretary Betsy DeVos, during a 60 Minutes interview that aired Sunday, where she struggled to answer questions about school funding and policy, said she would lead a federal commission to examine ideas to prevent future school shootings.
Initial signs suggest the commission may be less focused on finding new ideas and more on advancing specific proposals Trump has already backed. Education Week reported the commission may examine raising the legal age to buy a gun, increasing access to mental health treatment and repealing an Obama-era regulation to decrease the racial disparity in school discipline.
Some ideas mesh with recent Republican proposals to prevent shootings in the wake of the mass shooting at Marjory Stoneman Douglas High School in Parkland, Florida. Sen. Marco Rubio (R-Fla.) proposed a repeal of the Obama regulations on March 5, arguing they prevented schools from referring students to law enforcement. Other proposals have been a favorite of the president's since the Parkland shooting, like raising the legal age to buy a gun from 18 to 21, but there's little hope of passage in Congress.
There is precedent for this Trumpian approach to commissions. Trump created the Presidential Advisory Commission on Election Integrity to investigate his unfounded claim that 3 million to 5 million people voted illegally in the 2016 presidential election. The commission was widely viewed, including by some of its own members, as uninterested in improving elections and open only to ideas that supported Trump's false narrative of massive voter fraud. Trump disbanded the group in January.
Other high-profile groups have also failed to trigger major policy changes. Trump created a commission in March 2017 to combat the opioid epidemic, and while it generated several concrete, bipartisan recommendations, one of its members called the work a "charade" in January as Trump and Republicans did not take the ideas seriously. It took Trump more than two months to follow through on his promise in August and call it a "national emergency." And Trump ultimately ignored a key recommendation of his commission and designated the opioid crisis a lower-level public emergency.
It remains to be seen whether DeVos' commission will deliver real policy change in Washington. But similar groups Trump has formed have either struggled to operate without partisanship or have not substantially changed Trump's actions.
Today's question: What results do you expect from Trump's latest commission?
Please email us at trumpsamerica@mic.com with your thoughts.
Tuesday in Trump's America:
Rex Tillerson: Trump's first secretary of state, who gave up his job as CEO of Exxon Mobil to join the Trump administration, has been removed and will be replaced by CIA Director Mike Pompeo, the Washington Post reported.
Trump's personal assistant: Josh McEntee, the president's personal assistant, was fired and escorted out of the White House on Monday for an unspecified reason, the Wall Street Journal reported.
Pennsylvania special election: Expect wall-to-wall television and social media attention on the special election in Pennsylvania's 18th Congressional District. In a district Trump won by 20 points in 2016, Democrats see a chance to finally win a U.S. House special election. But win or lose, the close race indicates to the GOP — who have spent more than $10 million on the race — that they will face severe headwinds in the fall in House districts they used to view as safe. A final Monmouth poll of the race gave Conor Lamb, the Democrat, a 6-point lead over Rick Saccone, the Republican.
Remember: Because of a state Supreme Court ruling, the district will cease to exist next week. And Tuesday's election is only to hold the seat until the midterm elections in November. More on what you should know.
Russia investigation: House Republicans ended their inquiry into alleged Trump-Russia collusion on Monday by clearing the president of any potential wrongdoing. Their conclusions don't mesh with the findings of U.S. intelligence agencies, and Democrats said much work remains unfinished.
The Washington Post reported Roger Stone, a longtime Trump confidant, said in 2016 he was connected to Julian Assange and knew of damaging emails that would be released. Now, he says he was joking.
Deputy Attorney General Rod Rosenstein said there is no justification for firing special counsel Robert Mueller. Such firm support for Rosenstein means Trump would likely have to fire Rosenstein if he wants to fire Mueller, triggering even greater controversy.
Favors for Equifax: The Senate banking deregulation bill would give Equifax and other credit monitoring companies sweeping protection from consumer lawsuits. Equifax has not been the subject of any new laws to strengthen security after the company was hacked and data was stolen on as many as 148 million Americans.
Facebook woes: A new analysis finds the top two authors on Facebook in February wrote for fake news sites, months after Facebook said it would more aggressively weed out false content.
Tariffs: Instead of defying the president, Senate Republican leaders are hoping they can water down his tariffs on steel and aluminum.
Sanctuary state: Illinois Gov. Bruce Rauner, a Republican, signed legislation Monday that prevents Illinois police departments from cooperating with federal immigration officials. That comes as conservatives in Washington want the government to end funding to sanctuary cities as part of a federal budget deal.
Trump and North Korea: Everything you need to know about Trump's planned meeting with Kim Jong Un.
Kushner: "Jared Kushner's ambitious plan to make American government more efficient is set to enter its second year with no significant accomplishments, a diminished staff and an uncertain future." Ouch.
Firings: Trump signed a bipartisan bill in June to make it easier to fire employees at the Department of Veterans Affairs. That law has now been used to fire more than 1,700 people — most of them low-level employees and not high-level officials responsible for department failings, the intended target of the law.
Today's MicBite:
The National Rifle Association is using black and brown people as political pawns — and it's a deeply hypocritical stance, when you start to think about it. Brittany Packnett explains.