Trump personal assistant John McEntee was fired, escorted out of the White House on Monday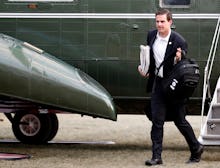 President Donald Trump's personal assistant, John McEntee, was fired Monday for an "unspecified security issue," the Wall Street Journal reported.
McEntee was escorted off the White House premises and was not given time to get his things, leading him to leave the grounds without his coat, according to the Journal.
While it's unclear why McEntee was fired, the Journal reported that there may have been something in McEntee's background check.
The White House has cracked down on staff with temporary security clearances after the scandal around former White House aide Rob Porter. Porter had been working on a temporary security clearance, as his background check revealed he had been accused of domestic abuse by two former wives.
On Tuesday morning, Trump's re-election campaign announced that it hired McEntee as senior advisor for campaign operations, as well as former Trump spokeswoman Katrina Pierson, who will also serve as a senior adviser.
"As we build out our operations for the 2018 mid-term elections and the 2020 re-election campaign, we are pleased to welcome back two outstanding members of our 2016 team," Trump for President campaign manager Brad Parscale said in a statement. "We need the help of proven leaders such as Katrina and John to promote the president's growing portfolio of achievements across the country."
McEntee was the first Trump official to be ousted from the White House this week.
Trump also fired Secretary of State Rex Tillerson on Tuesday, and announced that he intends to replace Tillerson with current CIA Director Mike Pompeo.