For a fizzy, fermented buzz, people across the country are heading to kombucha bars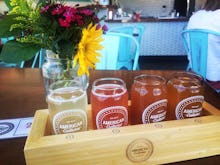 Kombucha, the fizzy, fermented tea drink that has skyrocketed in popularity over the last decade, can be found on grocery shelves across the United States. Even Target has its own line of kombucha these days, and Whole Foods has long offered kombucha on tap. But now, kombucha on tap has made its way to bars and restaurants — and there are even kombucha tasting rooms in cities like San Diego and Denver.
At Compass Cafe in Big Sky, Montana, customers can order kombucha that's poured from a giant wall of taps. The taps feature homemade teas, homemade lemonades and kombucha from different craft brewers, and the wall was a longstanding dream of owner Tiffany Lach.
Lach had previously owned a cafe in Santa Barbara, California, with a bar with taps that dispensed homemade iced teas that people "flocked in for," she said in a phone interview. When opening Compass Cafe in August 2017, she knew she wanted an iced tea and lemonade "tap wall" that would include kombucha in the mix.
The Compass Cafe tea and kombucha wall has 18 different taps. "Four to six are kombucha, and all from the northwest. One [kombucha] is from Montana, one is from Idaho and one is Oregon," Lach said.
"I wanted it to be simple and clean looking, and I wanted it to be gorgeous," Lach said, explaining that she commissioned glass tap handles from local artist Tad Bradley. "We put a lot of energy and money into it," Lach said, noting that the wall is on the right hand side of the store, right when customers walk through the front door.
Most visitors don't ask about kombucha's health benefits, Lach said. "A lot of people drink [it] because their friends drink it. They know its good for you; it helps with their belly and helps with a hangover," she said, referencing the idea that the probiotics in unpasteurized kombucha can promote gut health. "It could be a myth — but if I have an upset tummy, [kombucha] is the first thing I go to," she added.
Kombucha expands into tasting rooms
In Bozeman, Montana, kombucha fans can get their fix at Dean's Zesty Booch, a craft kombucha brewery that serves eight flavors on tap in a tasting room the company refers to as "the Boochery." The founder, Dean Wakerlin, spent six years brewing in his home before launching the business in April 2016. Customers can order light "Booch," which has less than 0.5% alcohol by volume (ABV), a low-alcohol version that has 1.25% ABV and a "Buzz Booch" that has 5 to 7% ABV, roughly the same ABV as a lager beer. Only customers over 21 can order kombucha with over 0.5% ABV, since "that's considered legally alcoholic," Joe Sheehan, a spokesperson for Dean's Zesty Booch, said in an email.
"We get kombucha veterans looking for the strongest, most puckering and full-bodied flavors, families with kids and kombucha first-timers looking for a gentler approach, and those coming over from the craft beer world who are looking to catch a buzz while exploring a new craft beverage option," Sheehan explained. Some of the more alcoholic kombuchas taste like sour beers, and the company is hoping to brew its own sour beer to blend with kombucha in the "not-too-distant future," Sheehan said.
Just like a craft brewery keeps rotating new and seasonal flavors among taps, Dean's also offers a variety of flavors. Fruity options like peachy pear vanilla, black raspberry vanilla, cherry baby, berry basil lemonade, strawberry lemon mint, carrot orange ginger and ginger grapefruit add a touch of extra sweetness to the bubbly, vinegary drink.
Unique flavors and combinations are what set kombucha breweries apart from kombucha bottles sold in stores, which mostly feature standard flavors like ginger and lemonade. At Buchi Kombucha in Asheville, North Carolina, customers can order glasses of kombucha flavors with hipster-sounding names like "Seed," "Sovereign" and "Water" that include ingredients like mango puree, dandelion root and stinging nettle.
Other kombucha-only bars have popped up in recent years. In 2016, Bootstrap Kombucha opened in San Diego. Humm Kombucha has a taproom in Bend, Oregon, that's been open since 2013. It's opening a second taproom in Roanoake, Virginia, in 2019 that the company says will employ 50 additional people. Happy Leaf Kombucha opened in Denver in 2013, and Denverites got another kombucha taproom, American Cultures, in 2016.
Soma Kombucha opened its first tasting room, called the Soma Speakeasy, in Portland, Oregon, in 2013. (A second Portland taproom opened last year.) Soma also sells jun, a fermented drink made from green tea that is akin to kombucha.
Need as much variety as possible? Head to Kennewick, Washington, where a health store called Encore Wellness 4 Life has 30 flavors of kombucha on tap.
Though a kombucha bar may seem like a great place to socialize without getting hammered, don't forget that most kombucha does contain alcohol.
Sheehan of Dean's Zesty Booch said that he and many of the Dean's staff prefer 5%, "as it's enough to feel it, but not enough to get too out of control after a couple pints."