Trump's new CIA director nominee helped oversee torture program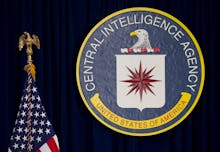 Gina Haspel, President Donald Trump's new nominee to head the Central Intelligence Agency, took part in the CIA's now-banned torture program — a past that could complicate her path to Senate confirmation.
Haspel ran a secret detention site in Thailand where two terrorism suspects, Abu Zubaydah and Abd al-Rahim al-Nashiri, were tortured, according to the New York Times. ProPublica clarified on Thursday that Haspel arrived at the site after Zubaydah's torture took place.
The torture — which included 83 incidents of waterboarding in one month as well as other abuse — was documented on videotape, which Haspel helped order to destroy, according to the New York Times report.
Her role in the CIA's torture program led Senate Democrats to call for Trump to withdraw her appointment as deputy director of the CIA in 2017 — a position Haspel did not need Senate confirmation for.
However, Haspel will need to garner the support of a majority of the Senate in order to ascend to director.
And given the already-slim GOP Senate majority, her nomination could be scuttled by the Senate.
GOP Sens. John McCain and Lindsey Graham are both against torture.
If all Democratic Senators, as well as Graham and McCain, vote against Haspel, her nomination would fail.
Should Haspel be confirmed, she would be the first woman to head the CIA.
March 16, 2018, 12:50 p.m.: This story has been updated.