Democrat Conor Lamb has slim lead in special election in Pennsylvania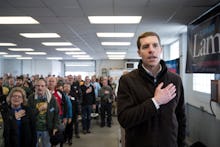 Democrat Conor Lamb leads Republican Rick Saccone by the slimmest of margins in Pennsylvania's 18th District, but the race remains too close to call.
With all precincts reporting, Lamb leads Saccone by just 641 votes, according to the New York Times.
Absentee ballots from one county still remain to be counted, but Lamb declared victory early Wednesday morning.
"It took a little longer than we thought, but we did it," Lamb said at his election watch party.
Saccone, for his part, is not conceding.
"We're not giving up, but I want to come out and thank you," Saccone told supporters gathered at his election night rally.
Whichever candidate is ultimately declared the winner, the results are a major warning sign for Republicans, as the GOP has carried this suburban Pittsburgh seat for more than a decade.
If heavily GOP seats like this are competitive in November, the GOP is likely in for a world of hurt in the upcoming midterm elections.
President Donald Trump won Pennsylvania's 18th district in 2016 by a 19-point margin, expanding on GOP nominee Mitt Romney's 17-point win in 2012. The seat is so heavily Republican that the district's former Rep. Tim Murphy (R-Pa.) — who resigned in disgrace after reports that he allegedly tried to pressure a mistress to have an abortion surfaced — ran unopposed in the previous two cycles.
Yet Lamb was able to overcome that strong Republican lean in order to outperform the district's partisan lean — a serious sign of trouble for the GOP, which cannot afford to lose seats this staunchly Republican in November.
Lamb's performance comes with other problematic news for Republicans. First, GOP outside groups spent more than $10 million to try to defeat Lamb. That's a major chunk of change in any race, but especially so in this seat, which won't even exist in November thanks to court-ordered redistricting.
Moreover, much of that ad spending went toward attacking Lamb for opposing the GOP's tax reform bill and tying him to House Minority Leader Nancy Pelosi, Republicans' favorite bogeywoman.
The fact that messaging didn't work in such a red seat should trouble Republicans, who were hoping that they could swamp Democrats in November with that messaging plan.
No matter the outcome of this race, both Lamb and Saccone will have to determine what district they will run in come November, as this seat in its current form won't exist.
Lamb would likely have to run in Pennsylvania's new 17th District, a seat Trump carried by a much narrower 3-point margin and is currently represented by GOP Rep. Keith Rothfus.
Saccone said he would run in the newly drawn 14th District, which is even more Republican than the current seat, though it's unclear whether he would run in the case of a loss.
March 14, 2017 7:06 a.m.: This article has been updated.