7,000 pairs of shoes line Capitol lawn as tribute to child victims of gun violence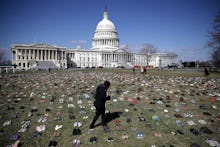 Seven thousand pairs of shoes lined the lawn outside the U.S. Capitol Building on Tuesday as a tribute to the children killed by gun violence since the deadly massacre at Sandy Hook Elementary School in 2012.
The demonstration was coordinated by activist group Avaaz, which aims at inspiring action on progressive issues ranging from poverty to climate change. The number of shoes was chosen to represent the 1,300 children estimated are killed by guns each year in America, multiplied by the five years and three months that have elapsed since Adam Lanza killed 20 first-graders in Newtown, Connecticut, in December 2012, Business Insider reported.
To stage the protest, Avaaz crowdsourced the thousands of pairs of shoes from the families of the victims of gun violence and concerned citizens. The display is an attempt to bring "the heartbreak of gun violence to Congress' doorstep," the group said in a statement obtained by the Hill.
Per the group's website, all of the shoes will be donated to Washington, D.C., area homeless shelters and charities after the memorial concludes.
The demonstration comes prior to a national school walkout scheduled for March 14 that will see students walk out of class for 17 minutes in honor of each of the 17 victims killed during the shooting at Marjory Stoneman Douglas High School on Feb. 14.