Progressives call on Democrats to abandon popular crowdfunding site run by right-wing Fox News host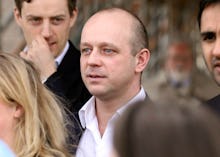 Populist conservative firebrand Steve Hilton had a long and compelling career before becoming one of the newest hosts on the Fox News Channel.
Hilton grew up in the United Kingdom, the son of a Hungarian hockey player and political refugee. He went on to work for Britain's Conservative Party, and later began to serve as a top political aide to former conservative British Prime Minister David Cameron, where he took on the difficult task of trying to give the party a populist makeover. He's even said to be the inspiration for one of the characters in the hit British TV political comedy The Thick of It, the British antecedent to the hit HBO show Veep.
But it's Hilton's more obscure work in the private sector that now has some progressives worried. That's because, in addition to his duties hosting Fox News' new show The Next Revolution, Hilton is the CEO of the for-profit political fundraising company Crowdpac — an organization whose online fundraising tools are currently being used by progressive Democratic campaigns all across the country.
Crowdpac is a non-partisan, San Francisco-based company founded in 2014 by Hilton and a group of tech entrepreneurs. The site aids in grassroots fundraising for political campaigns by taking donations on behalf of candidates of all political parties. The organization funds itself through voluntary extra donations that patrons can make upon checkout, and also takes a small cut of certain target fundraising campaigns. Crowdpac was unable to provide Mic with annual revenue numbers.
Mason Harrison, a Crowdpac spokesman, readily admitted in an interview with Mic that despite the site's non-partisan mandate, the campaigns it hosts "skew progressive," especially in the Trump era. While Crowdpac allows users to donate to almost any political candidate through the site, the candidates can chose to actively set up and promote their own Crowdpac pages. And many progressive 2018 challengers have done that.
In March of 2017, after Utah Republican Rep. Jason Chaffetz controversially compared purchasing health care to buying a new iPhone, his Democratic challenger, Dr. Kathryn Allen, used Crowdpac to raise more than half a million dollars from outraged progressives across the country. Chaffetz later decided not to run for reelection.
This midterm season, Jess Phoenix — a pro-science Democratic candidate running to unseat incumbent Republican Rep. Stephen Knight in California's 25th congressional district — has raised more than $115,000 through Crowdpac, according to the site.
All of this funding for progressives might come as a surprise to viewers of Hilton's Fox News show, where he praises Trump's tax reform and deregulation efforts, while frequently railing against the immigration policies of liberal politicians like Jerry Brown.
In just the past two months, Hilton has used his Fox News perch to blame America's epidemic of mass shootings on the declining marriage rate, mongered about an so-called "deep state" within the U.S. government and compared sanctuary policies pushed by Democratic politicians to the release of "convicted child sex offenders, drug dealers and other violent criminals on to the streets."
Now, some progressives are calling on candidates to boycott Crowdpac over the politics of its conservative founder and CEO.
"I don't think anyone should be using Crowdpac, and I'm not gonna be soliciting use of their platform, and encourage all my friends to do the same," Democratic California State Sen. Henry Stern, who chairs his state's Elections Committee, told Mic in an interview.
On Monday Stern tweeted "Time to #DropCrowdpac" with a video of one of Hilton's Fox News segments.
Berkeley professor and author George Lakoff also put out a call today for Democratic voters to stop giving to candidates through Crowdpac and to urge candidates to abandon the site.
And former Los Angeles mayor and gubernatorial candidate Antonio Villaraigosa recently closed his account with Crowdpac, no longer allowing donations through the site.
Stern, for his part, says he was surprised not only to learn about Hilton's role in Crowdpac but also that, despite having the acronym for "political action committee" in its name, Crowdpac is actually a for-profit company taking a cut of some of its pledge-driven campaigns. A representative for Crowdpac told Mic in an interview that they are considering abandoning the fees model and funding the organization entirely through voluntary donations.
Stern said that he believes that for Crowdpac to preserve its reputation with the progressive campaigns it hosts, Hilton should step down immediately.
"If they want to rebuild their corporate image and actually try to offer themselves as a truly progressive or populist platform, they've got to switch their CEO," Stern said.
"I'd say that's where it starts, and until then, I don't think anybody should be taking any money from that website or using it to do these startup campaigns. There's plenty of other options out there, and to have some far right, anti-immigrant, gun nut on the there is just not gonna work," he added.
Stern also believes that in the current era of corporate activism, Crowdpac's shareholders should also be taking action to make changes in the company's leadership.
"I hope whoever their board is is paying attention, though, because they're undermining the very values that they're supposedly founded on."
In a request for a request for comment, Harrison told Mic, "Crowdpac is a nonpartisan crowdfunding platform that's helping thousands of candidates run for office — we support free speech, not the views held by any single user or employee."