'A Wrinkle In Time' and 'Black Panther' are ushering in a new era for black girls in fantasy films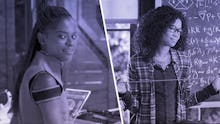 The top films in the country, Black Panther and A Wrinkle in Time, are both fantasy/sci-fi movies directed by African-American filmmakers — Ryan Coogler and Ava DuVernay, respectively. But they both have something else in common, too: black girl characters who are genius science wizzes and play important roles in the fate of their worlds.
DuVernay's A Wrinkle in Time — based on the 1962 novel by Madeleine L'Engel — centers on the protagonist Meg, played by Storm Reid. She's a quirky, curly-haired teen who leads a mission throughout the far reaches of the universe to find her missing father. In the beginning of the film, Meg is a troubled student who hasn't been the same since her father's disappearance. But by the story's end, she completes her undertaking using her knack for physics and guidance from three other-worldly, magical beings known as the "Misses" — Mrs. Whatsit, played by Reese Witherspoon; Mrs. Who, played by Mindy Kaling; and Mrs. Which, played by Oprah Winfrey.
Meanwhile, one of the breakouts from Marvel's Black Panther is Shuri, played by Letitia Wright. Shuri hails from Wakanda, a fictional, futuristic African nation that's hidden from the rest of society. She's a witty 16-year-old who designs some of the advanced technology that powers Wakanda and supplies her brother T'Challa (a.k.a. Black Panther) with all sorts of gadgets and gear for his various expeditions. And despite already appearing in one of the year's biggest box office successes, Shuri's also slated to appear in the next Marvel behemoth, the forthcoming Avengers: Infinity War, due for release in April.
Both characters are bringing more visibility to black girls in major fantasy and science fiction films. Some people, like Shanita Hubbard, a professor and writer, have tweeted about young girls' new obsession with Shuri.
Students who are a part of Black Girls Code have also been inspired to see girls who love science and technology on screen. The non-profit, created by engineer Kimberly Bryant, is teaching black girls a range of STEM skills involving programming and robotics. African-American women make up just 2% of those working in science and engineering, according to the National Center for Science & Engineering Statistics.
Sasha Williams, a 16-year-old Black Girls Code participant, who aspires to be a virtual-reality game designer, admires Meg. "For her to take on this story about a little black girl trying to become a warrior, about being who you are, it's just really inspiring," she said at a Wrinkle in Time-inspired coding event organized by Disney, Hewlett Packard and Nissan.
The success of both projects is also proving there's more room for this particular demographic to shine on the big screen. And this moment can't be overlooked: It's rare for major blockbusters to foreground young, black girls. Characters like Shuri and Meg just aren't usually seen in big Hollywood productions, especially since they're also affirmed in their black skin while wearing their natural hairstyles.
In reality, black girls often face stigma for embodying any of the traits mentioned above. A 2017 study, Girlhood Interrupted: The Erasure of Black Girls' Childhood, revealed that black girls are perceived as less innocent and more "adult-like" than white girls. This bias is also tied to higher suspension rates for black girls in the education system, the National Woman's Law Center reported in 2017. And it's well-documented that in some school districts around the country, black girls are penalized from schools for wearing Afro-centric styles like braids.
In Black Panther, Shuri is free from these limitations as a princess of Wakanda, a nation that has never been colonized by European societies. But in A Wrinkle in Time, Meg, who lives in an urban environment nowhere near the picture-perfect Wakanda, feels very much like an other. She's bullied at school and when she fights back, she's called to the principal's office; during the meeting, the principal suggests that she move on from the idea that her father will ever come back. Despite the doubts of others, though, Meg believes she'll see her dad again one day.
For all the positive reinforcement that these characters provide to young black girls, they can also have an effect on non-black audiences, too. Black Panther and A Wrinkle in Time further normalize the idea of black girls playing strong characters in fantasy roles, instead of erasing them entirely or limiting their presence.
Oftentimes, when black girls land integral roles in adaptations based on fantasy books, the news is met with hatefulness from some. Amandla Stenberg was subjected to racist backlash for portraying Rue in 2012's Hunger Games. In 2015, there was a similar response to actress Noma Dumezweni being cast as Hermione in the London stage production of Harry Potter and the Cursed Child. Author J.K. Rowling shut down the insensitive comments, tweeting in support of Dumezweni: "Canon: brown eyes, frizzy hair and very clever. White skin was never specified." With A Wrinkle in Time, Reid faced similar opinions. In the book, Meg's race is not specified and she is described as "plain" and wearing glasses. DuVernay has been outspoken about why she cast Meg as bi-racial in the film.
"The first image [I had in my head] was to place a brown girl in that role of Meg, a girl traveling to different planets and encountering beings and situations that I'd never seen a girl of color in," DuVernay told Entertainment Weekly in July.
The fantasy film space has a long history of being behind when it comes to ideas of inclusivity. Roughly 80 years ago, Disney premiered its first full-length animated feature film, Snow White. But it wasn't until 2009 that audiences saw the first black Disney princess in Tiana, from The Princess and the Frog. It was also groundbreaking in 2015 when Home became the first 3D animated film to star a black character, a little girl named Tip, voiced by Rihanna. But even though Tip became another symbol of representation for black girls, Dreamworks was called out for notably leaving her out of some marketing materials.
Past generations of black girls simply weren't as lucky to have recurring fantasy or fairytales films that centered them. One exception was The Wiz, an all-black version of The Wizard of Oz. Originally a Broadway musical, the Tony-award winning show debuted in 1975 and featured a teenaged Stephanie Mills in the role of Dorothy. A film adaptation followed in 1978, and eventually became a cult classic, but it initially flopped at the box office. Major producers reportedly used The Wiz's failure as an excuse to depart from creating expansive black storylines and characters, and to instead focus solely on whiter films, film critic Steve Persall wrote in the St. Petersburg Times in 2000.
But the 1970s did see the rise of the first nationally known black woman science fiction writer, Octavia Butler, who received Nebula Awards for her novels, including Parable of the Sower and Parable of the Talents. Meg and Shuri are characters Butler would have likely been proud to see on screen, as she was dedicated to creating black female protagonists with agency. In a 1991 interview with John Hopkins University Press, Butler said the female characters in her stories reflect feminist ideals in a sense, because "women do pretty much what they want to do."
In 2018, it's magical to know that more of these storylines featuring black girls and women are flooding the cultural landscape. Butler's 1987 novel Dawn is being adapted for a television series, produced by DuVernay. In 2017, Fox 2000 Pictures also acquired the rights to Tomi Ademeyi's just-published book Children of Blood and Bone, a West African-inspired young adult fantasy novel.
With this past weekend's historic box office haul for Black Panther and A Wrinkle in Time, the demand for more quality, diverse storytelling in different genres cannot be ignored. DuVernay and Coogler have opened new doors in the mainstream fantasy space and it's empowering to see black girls be part of this success.