A fat adventurer on how the travel industry can be more inclusive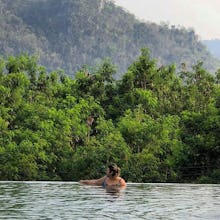 Americans are traveling abroad more than ever before — and often leaving their comfort zones behind to experience new adventures. Airlines have made it more affordable to visit far-flung places, and when the price is right, many people are willing to punch in their credit card number and enjoy the anticipation of their upcoming time away. Others, however, have to ask themselves: "Will I be too fat to enjoy myself?"
I'm not here to talk to the internet doctors that will try to make this about health, or others who want to make me feel bad about my body. I'm here to talk to the travel industry and other fat travelers (more specifically, female fat travelers). In a world of brands like Eloquii, Christian Siriano and a growing movement of body positivity, we're finally being included more. Getting here wasn't easy — it took decades to get to this point in fashion. Travel industry: Let's not take as long to embrace the curves and rolls.
This doesn't have to be complicated. There are easy steps that the travel industry can take to accommodate fat travelers — and it should, because I guarantee you, we are here. More importantly, we have money to spend. Fat travelers go hiking, we jump off of waterfalls and we snorkel in the blue sea.
Standardize the seatbelt
One of the biggest anxiety-inducing questions for fat travelers is, "Will I fit?" This question isn't about seat size, but rather, the actual length of the seatbelt. The worst part is inconsistency. On one leg of trip, everything will be fine, but on the next, you'll find yourself trying to squeeze into a belt that couldn't have possibly been made with you in mind. Whether domestic or international, there is no surefire way to be educated about the size of a plane passenger seatbelt. According to TripSavvy, both seat belt and extender lengths vary by airline. The site's data reveals that on Alaska Airlines, seat belts are 46 inches long with extenders at 25 inches. On Delta Airlines, seat belts can range between 35 and 38 inches, with extenders listed at 12 inches.
Yet, seatbelt extenders aren't the answer as things stand, either. Since the mere act of asking for one can be embarrassing, some fat travelers turn to seatbelt extenders they bought themselves online, even though none are actually legal to use on a plane.
Being a fat traveler, it is especially difficult to travel alone and have to request an extender. If you do request an extender, every flight has a different protocol. If you ask a flight attendant for an extender as you're boarding the plane, you'll spend the duration of the boarding process praying that they remember to bring it (sometimes they forget). If they do remember to bring the extender, will they do so before your seat mates shuffle in? When the flight attendant does come over, they will have to pass you the extender, usually over the heads of two curious strangers who want to know about the special freebie they're not getting.
As a more seasoned traveler, I've overcome my fear of asking out of necessity, but it's never a comfortable experience, and the feeling of dread can linger throughout the duration of the flight. Flying eight hours is one thing, but spending those eight hours in your own head, re-playing that mortifying scene over and over again is not a fun way to start any trip.
Airlines are systematically shunning a large portion of potential clients; with 40% of Americans being fat, I have to wonder why this is.
So my question to airlines is: Why don't you just standardize the length of seat belts? Or, how can you make the request process a little less humiliating for those who require an extender? Here's an idea: Make it so I can request a seatbelt extender ahead of time to be delivered to my seat, much like a special meal. Problem solved! I won't even charge you for that. You're welcome.
Recognize that fat people also enjoy the great outdoors
Just because we're fat doesn't mean we don't want to walk or be in nature. We might just need more time and a few more breaks than others. Instead of neglecting those who want to move at a slower pace, why not just offer tours at slower paces? People who were once discouraged from purchasing a group tour out of fear of holding others back might be inspired to spend their cash on something that promises less judgement. Better yet, well-planned tours that let slower travelers reach the end, rather than having to turn around due to time restrictions, are more likely to garner good reviews from happy customers.
I missed out on one of the most famous views on Ti Top Mountain in Ha Long Bay, Vietnam, because there was no way I would be able to climb to the top, enjoy the view and make it down within the 40 minutes that was allotted for the stop. Instead, I sat on the beach (which wasn't the worst consolation) while I waited for my partner to go. It was a bummer that we couldn't share that moment together. I have only ever been able to hike or do climbs like that when it was a very small group of supportive people who didn't mind that I was a bit slower. Bigger groups and tours rarely allow that option.
Slower-paced tours not only benefit fat travelers, but also families with young children or persons with disabilities. By being more inclusive, companies widen their market and make more money. People don't mind paying for a service if it means it works for their bodies and their families, not against them. In a world that is dominated by reviews, why not stand out? If you embrace us, we will reward you not only with our money, but also with our loyalty as we promote you to anyone and everyone, no matter the size.
Know that weight limits don't solve the problem
I understand weight limits. I get that for some activities, if a person is a certain weight, they cannot participate in that activity for safety reasons. But what's frustrating is when you do fall below a 270-pound weight limit but the actual gear doesn't fit around your hips — something that has happened to me countless times.
Companies need to be better prepared. Belts, harnesses, wetsuits and scuba diving pants all need to come in more inclusive sizes. Activities like kayaking and go-karting need to be re-evaluated for comfort and fit, and not simply judged by the weight the equipment can bear.
Embrace all customers — or lose them to more inclusive destinations
There is one place that fat people flock to and spend quite a bit of cash every year: Disney World. Want to know why? It is 100% fat-friendly. Disney finds every opportunity to update rides and attractions to accommodate fat travelers. It caters to all traveler types and they do a great job marketing their inclusivity.
People know they can rest, eat, fit, and in general, have a good time with their friends and family at Disney. There are Facebook groups devoted to being plus-sized at Disney, including Disney Parks for Plus-Sized Guests, which has more than 27,000 members. Fat travelers flock to places like this because it gives them the information and the confidence that they need to book that flight. Why wouldn't an area want to become a fat-friendly destination? Showcase fat people in your promos. Show that we are welcome. Highlight the cool-ass things anyone, of any weight, can do.
So listen up, travel industry: We are here, and you are missing out.
We want to give you our money, so it is in your best interest not to neglect us. Take a page from REI and Outdoor Magazine, brands that acknowledge that fat people are here and embrace the fact that we want to be active.
One last note for my fellow travelers
Lastly and most importantly, to all the fat people reading this: Get out and travel. Help your other fat travelers and write reviews. It might not always be easy, but know you are allowed in any space. Let's make a commitment to stop asking "Am I too fat?" and instead let us ask, "Where to next?"