Conservative Parkland teen makes the case for gun control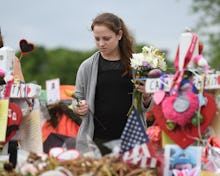 Lewis Mizen is your typical teen. He goes to school, hangs out with friends and participates in nearly a dozen extracurricular activities. But Mizen never imagined he'd take on a new role in his senior year at Marjory Stoneman Douglas High School: the role of an activist. After the Parkland shooting that killed 17 people, including his own classmates and friends, Mizen is calling on Americans — both Republicans and Democrats — to have a meaningful conversation about what he calls commonsense gun control.
"I had somebody walk through the school where I went for four years, my high school home, and shoot at my friends," said Mizen in an exclusive video op-ed for Mic. "I understand that everybody wants to protect their own rights, and I understand people's love for the Second Amendment, but there has to be a compromise between the Second Amendment and its value, and the value of people's lives."
Mizen considers himself a conservative, but believes that Americans' right to bear arms should not infringe upon the rights of American children to go to school without fear for their safety.
"There is a line between protection and violence, and I'm all for the guns that fall on the protection side of it," said Mizen. "If you want to keep a handgun in your drawer next to your bed in case you get robbed, I'm 100% OK with that. What I have a problem with is the fact that mentally unstable 19-year-olds can get their hands on the same sort of weapons that we send soldiers to fight foreign wars with. Because that definitely doesn't air on the side of protection. That's violence."
In response to the Parkland shooting, Florida Governor Rick Scott recently signed into legislation a law that would require Floridians to be 21 years old to purchase a gun. While there are many critics of the bill, from both sides of the aisle, Mizen believes the new law is a great first step.
"It shows compromise," said Mizen. "It shows willingness on both sides to work together."
In fact, what Mizen is most passionate about is the idea of compromise. He says he's sick of all of the arguing and wants to see people actually talk to each other. To start, Mizen will be taking on conversations with people who disagree with him about gun control.
"I want to speak to an NRA member," said Mizen. "I want to speak to the most hardcore gun advocates America has to offer. I want to talk to people who disagree with me. Because they're the people we're going to make a compromise with."
Follow along with Mizen as he takes on tough conversations with those who disagree with him and watch his first exclusive op-ed with Mic above.