5 key takeaways from Pennsylvania's too-close-to-call special election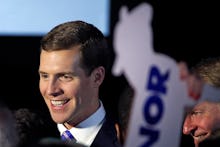 The special election in Pennsylvania's 18th District remains too close to call, with Democrat Conor Lamb holding a slim lead over GOP opponent Rick Saccone as of Wednesday morning.
Lamb, however, has declared victory in the race. But no matter the ultimate outcome, the contest is an ominous sign for Republicans heading into the midterm elections. Here's what was learned from Tuesday's race:
1. Candidates matter
Tuesday's results show that Democrats cannot take a one-size-fits-all approach to recruitment, and instead need to find candidates that fit each district.
Lamb — a Marine and former federal prosecutor — had the kind of moderate profile and personality that plays well in this suburban Pittsburgh district where he was running, and which President Donald Trump carried by nearly 20 points in 2016.
Lamb ran on a message of unity and working together, rather than simply being anti-Trump — which helped him garner support in the Republican-leaning district. He also proved to be an adept fundraiser, bringing in millions more than Saccone, who had to rely on Republican super PACs to make up the difference.
Campaign finance laws allow candidates to get better ad rates than outside groups, which meant Lamb's money went further than Saccone's.
Lamb was also able to run ads in which he introduced himself to voters and made the case for his candidacy. Campaign finance laws forbid super PACs from directly coordinating with candidates, meaning they couldn't run ads with Saccone delivering his own message.
All of that gave Lamb an advantage. Of course, favorable political tailwinds were necessary for Lamb to compete in the first place. But a candidate too far outside the mainstream of this district wouldn't have been able to take advantage of those tailwinds.
2. Unions are still a political force
Right-to-work laws in states across the country may have diminished the power of unions. However, the ability of unions to organize politically is still a potent force, and that organizing power gave Lamb a boost in Tuesday's contest.
Unions were all-in for Lamb and against Saccone, who supports right-to-work laws and even defended that position days before the special election.
According to the political newspaper Roll Call, more than two-dozen unions backed Lamb and helped get out the vote for his campaign. Even the Steelworkers backed Lamb, despite Trump's steel tariffs that Republicans hoped would help the GOP in this seat.
3. The Trump coalition is not transferrable to other Republican candidates
Saccone embraced the president's style, declaring at the outset of the race that he was, "Trump before Trump was Trump" — seemingly referring to the president's populist agenda.
Saccone campaigned not only with Trump, but with other members of Trump's inner circle, including Vice President Mike Pence, Donald Trump Jr. and Kellyanne Conway. They all said that Saccone would help carry out Trump's agenda.
Yet despite Saccone having Trump's endorsement, a number of the president's voters backed Lamb.
Democrats had similar issues during former President Barack Obama's tenure, when they were unable to put together Obama's winning coalition in midterm election years in 2010 and 2014, leading to major Democratic losses at the ballot box.
Tuesday's results in Pennsylvania indicate that Republicans could find themselves in the same position in the era of Trump.
4. Trump is an albatross for Republicans
Trump was a problem for Republicans, even in a district he easily carried in the presidential election less than two years ago. That's because he energized Democrats, who turned out in greater numbers than Republicans did in the district.
That enthusiasm gap ended up making the difference in the race, according to House race expert Dave Wasserman.
And given that there are 119 Republican members in districts that are more competitive than this seat, that should give GOP lawmakers heartburn.
House Speaker Paul Ryan is set to deliver a warning to his members Wednesday morning that they cannot ignore the Democratic enthusiasm gap, according to Politico's Rachael Bade, who reported that Ryan is set to tell his members that this contest was "a wake-up call."
Unless Trump can endear himself to Democrats before November — an unlikely feat given that his poll numbers have barely changed since he took office — it's unclear what Republicans could really do to overcome that enthusiasm gap.
5. Republicans are in deep trouble in November
All four of those takeaways lead to the last one: The Republican House majority is in real danger come November.
If Lamb is declared the winner — which NBC News on Wednesday morning projected is likely — Democrats will need to pick up 23 seats in November to win the majority.
There are currently 23 Republicans representing districts Hillary Clinton carried in 2016, and dozens more in seats Trump marginally won. If seats like Pennsylvania's 18th are competitive, than Democrats are likely feeling good about reaching that 23-seat goal.
Even worse for the GOP is that the message they deployed against Lamb — calling him an anti-tax reform Democrat who supports House Minority Leader Nancy Pelosi — would have been lethal in past years in the district.
If the tax reform and anti-Pelosi messaging — which Republicans plan to deploy in the midterms — didn't work in a Republican seat like this one, then November is looking to be a bloodbath for Republicans.