What to know about the thousands of high school walkouts happening nationwide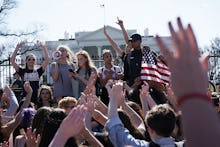 Welcome to Mic's daily read on Donald Trump's America. Want to receive this as a daily email in your inbox? Subscribe here.
Wednesday's dispatch: What to expect from the National School Walkout
It has been one month since 17 people were shot and killed at Marjory Stoneman Douglas High School in Parkland, Florida, by a former student. On Wednesday, a Women's March-organized walkout will be the first nationwide event to honor the victims and draw further attention to gun control measures.
At the end of February, the Women's March predicted more than 185,000 students would join the walkout. More than 3,100 walkouts are planned. You can find a map of the participating schools here.
At 10 a.m. across time zones, students plan to leave their classrooms for 17 minutes to honor each victim of the Parkland shooting. Students at some schools will hold a moment of silence, while others plan to sing and hold hands in hallways.
Organizers hope the walkout will continue a national dialogue around changing gun laws. On the Women's March website, organizers encourage students to participate in as many actions as possible to pressure Congress to take action. Since the Parkland shooting, Washington lawmakers have taken no action to change access to firearms. The White House has advanced ideas like arming teachers, raising the legal age to buy a gun and improving background checks — but all of those ideas have stalled on Capitol Hill.
In Florida, legislators recently raised the legal age to buy a gun from 18 to 21, created a three-day waiting period to buy a firearm, made it more difficult for people with a mental illness to buy a gun, banned bump stocks and created a program to arm some school personnel. The National Rifle Association sued to have the bill overturned an hour after it was signed by Republican Florida Gov. Rick Scott.
The walkout will be followed 10 days later by the March for Our Lives in Washington on March 24. Half a million or more marchers are expected in the city, with solidarity marches planned in other cities nationwide. And on April 20, another student walkout has been planned by high school students near Newtown, Connecticut, to commemorate the anniversary of the 1999 mass school shooting in Columbine, Colorado.
Today's question: Are you participating in a walkout or know someone who is on Wednesday? If so, please send pictures!
Please email us at trumpsamerica@mic.com with your thoughts.
Wednesday in Trump's America:
Pennsylvania election: The special U.S. House race is too close to call. Nearly 1,200 absentee votes remain to be counted in a race where Democrat Conor Lamb leads Republican Rick Saccone by fewer than 700 votes. Still, the result will be troubling for Republicans who won the congressional seat by 20 points in 2016. A double-digit swing in favor of Democrats in the 2018 midterm elections could trigger Republican loss of the House.
Lamb declared victory around 1 a.m., though the Associated Press has yet to call the race.
Diplomatic reshuffle: Rex Tillerson said Tuesday his role as secretary of state will end March 31. Tillerson gave reporters a statement Tuesday in which he spoke of achievements under his tenure but only once mentioned Trump. He said he received a phone call from the president hours after he'd tweeted that Tillerson was fired — a tweet that was also how Tillerson first heard about his firing.
CIA Director Mike Pompeo is Trump's nominee to replace Tillerson as secretary of state. CIA Deputy Director Gina Haspel would replace Pompeo, making her the first woman to run the agency. Haspel's role in the now-banned U.S. torture program under President George W. Bush has raised flags for some Senate Democrats, who may be needed to get onboard with her nomination if she is to be confirmed for the role.
Cabinet: More changes could be coming to the Cabinet as Trump says he has soured on some members of the group.
Veterans Affairs Secretary David Shulkin may be next. The embattled VA head faces weak support within the agency and has been the subject of embarrassing scandals, like using taxpayer dollars to fly his wife to Europe or sending his security detail on personal errands.
A symbol: 7,000 pairs of shoes were laid outside the Capitol on Tuesday in advance of the student walkout to pay tribute to child victims of gun violence. You need to see the picture.
House intelligence: Republican Rep. Tom Rooney, a member of the House Intelligence Committee, says the group has "lost all credibility" after the GOP ended its inquiry into alleged Trump-Russia collusion — saying the president did not work with Russia, nor did Russia support him. The committee will likely issue two partisan reports, with Democrats arguing the committee left several avenues uninvestigated.
Donald Trump Jr. said Tuesday he found the Senate investigation more credible than the House's, where he said members of Congress were "looking for a sound bite."
Budget negotiations: Conservatives in the House want to see funding to sanctuary cities stripped in the current negotiations to fund the government past next Friday. Leaders of minority, Democratic caucuses in the House do not want to see an increase in funding for law enforcement officers who deport undocumented immigrants. This could trigger another breakdown in Congress over immigration.
Seth Rich: The family of the slain Democratic National Committee staffer has sued Fox News for spreading an unfounded conspiracy theory about his 2016 death.
Schumer vs. Warren: Sen. Chuck Schumer (D-N.Y.) has reportedly not used his position as Democratic leader to prevent moderate Senate Democrats from siding with Republicans and advancing a bill to deregulate banks. Though Schumer does not support the bill, his lack of work against it has angered senators like Elizabeth Warren (D-Mass.)
Stormy Daniels: The porn actress suing Trump says she wants a new judge in her case and is entitled to one because the jurist is seeking a federal appointment.