Long known for music, Asbury Park, New Jersey, starts to embrace its artsy side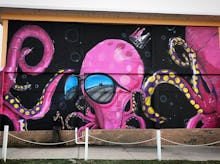 Along the boardwalk in Asbury Park, New Jersey, a row of large murals faces the sandy beach. As beachgoers amble along the wooden walkway, cartoon mermaids, psychedelic-looking boomboxes and other colorful art make for a splashy backdrop.
The murals are part of a larger undertaking called Wooden Walls, a public art project spearheaded by local gallery owner Jenn Hampton and funded in part by Madison Marquette, a real estate developer. More than 20 artists from around the world have come to Asbury Park to contribute to the project, which now consists of roughly 25 murals, Hampton said in a phone interview.
From music to murals
Most people think of Bruce Springsteen when they think of Asbury Park. And several other rock and roll musicians, including Jon Bon Jovi, Patti Smith and The Clash, got their start playing in famous Asbury venues like The Stone Pony, the Wonder Bar and the grand Convention Hall. But visual art had not been a priority for decades.
"Music grew this town," Hampton said. "In contrast, [art] is nothing compared to the music scene." There were a few galleries in town, but they didn't hold a candle to the longstanding musical institutions. Plus, Hampton pointed out, there was no dance or literary scene to speak of.
In 2008, the first town-sanctioned mural went up. Local artist Mike Lavalle, who goes by the pseudonym "Porkchop," got permission from developers to paint around the city's old casino, he said in a phone interview. On the side of the Asbury Park Casino, an abandoned concrete-and-limestone structure that now functions as a skate park, Porkchop and a friend painted a woman with a jellyfish-style tail.
"It became such an iconic mural, it made me think, 'There should be more of these'," Hampton said. "There's a crazy economic divide [in this part of New Jersey] so I thought, wouldn't it be nice to have a living, breathing outdoor gallery?"
Where music and art meet
Together, music and art are raising the profile of the town by the sea. Asbury's first new hotel in 50 years, The Asbury, opened its doors in 2016. It has a lobby bar that features live musicians and an adjacent gallery space, the Danny Clinch Transparent Gallery, which is open to the public and allows musicians to play impromptu sets late into the evening.
Touring musicians can stop by Outpost, a rest stop where on-the-go artists can do laundry, record in a studio and pick up complimentary snacks and grooming items. Real estate developer iStar — the developer behind the Asbury Park waterfront — has played a large role in funding artistic projects such as the hotel, gallery and rest stop, and was the organizer of a recent trip that Mic attended.
An eye on accessibility
Asbury Park's income inequality is relatively high for a New Jersey city with a population over 10,000, NJ.com reported in 2017, though not as high as cities like Montclair and Princeton, which are in the "commuting shadow" of New York City, the article noted.
Lavalle has lived in Asbury for more than a decade and remembered the town and boardwalk were "kind of desolate" when he arrived. "But there was this awesome architecture all over the place. It was fun because you run into all these old buildings and it was kind of a giant playground."
With many up-and-coming retail and residential developments in Asbury in the works, Lavalle expressed hope that developers ensure the city can remain accessible to creative people.
"Whether they're musicians or visual artists or actors or whatever, there should be a place for them to stay," he said.
Hampton has lived in Asbury for 14 years and owns Parlour Gallery. "I was enthralled that it was this forgotten town," she said, referencing the fact that Asbury was once a booming beach town with an amusement park, but later faced destruction during race riots in the 1970s.
In 2010, Hampton began asking the town's major developer, Madison Marquette, for a budget to pursue the Wooden Walls project. She succeeded in getting funding to recruit artists in 2015.
"What helped, ironically, was Hurricane Sandy. They had to put wooden walls around different buildings," Hampton explained. She noted that the public (and developers) also began paying attention to public art after a festival called All Tomorrow's Parties in 2011, when street artist Shepard Fairey did a piece near the boardwalk.
"What helped, ironically, was Hurricane Sandy."
Art for all
No longer do the colorful murals only appear on abandoned lots — Lavalle has been commissioned to paint murals in several businesses, including wall art in Little Buddy Hideaway, a speakeasy tiki bar, and a large logo at Asbury Park Distilling, the city's first distiller since prohibition. He's also been commissioned by iStar for two murals at Asbury Lanes, a live music complex due to open by Memorial Day. Street art seems to be infused into the town's new look and identity. Lavalle's work also appears on (and in) residential buildings.
Lavalle noted that musicians still outnumber artists. But if Asbury continues to emphasize arts, perhaps that will change.
"You watch people all day long taking pictures [of the Wooden Walls,]" Lavalle noted. "It gets people aware that art is still important." Hampton hopes that the outdoor murals make art more accessible and inspires visitors to check out the galleries in town instead of looking through the windows and feeling too intimidated to venture inside — something she said she sees a lot.
"If you say you're not an art person but something moves you, then I did my job," she said.
March 19, 2018, 4:25 p.m.: This story has been updated.