Frances McDormand called for inclusion riders. Here are the stars who are actually taking action.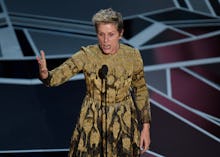 When Frances McDormand accepted her best actress Oscar at the Academy Awards, she ended her speech with two words: inclusion rider. She was referring to the industry practice of actors asking for their contracts to include a stipulation that the cast and crew of a project meet a certain level of diversity. In the 10 days since the Oscars took place, have Hollywood stars actually heeded McDormand's call to action?
First, some background on what, exactly, inclusion riders are: Stacey L. Smith, director of USC Annenberg's Media, Diversity, & Social Change Initiative, described the concept of an "equity rider" in an article for the Hollywood Reporter back in 2014. She spoke specifically about measures to include more women in acting roles.
"What if A-list actors amended every contract with an equity rider? The clause would state that tertiary speaking characters should match the gender distribution of the setting for the film, as long as it's sensible for the plot," Smith wrote. "If notable actors working across 25 top films in 2013 had made this change to their contracts, the proportion of balanced films (about half-female) would have jumped from 16% to 41%."
When leading stars leverage their power to demand their films include women and people of color, it increases opportunity and representation across the board. And it turns out some big names in Hollywood are actually promising to follow through and implement inclusion riders in their future work. On March 7, just days after McDormand brought up the concept at the Oscars, Black Panther star Michael B. Jordan announced in an Instagram post that he would be implementing an inclusion rider for all projects produced by his company, Outlier Society Productions.
"I've been privileged to work with powerful [women] and persons of color throughout my career, and it's Outlier's mission to continue to create for talented individuals going forward," Jordan wrote. As Variety reported, Jordan started Outlier in 2016 and has some big projects in the works, including Creed 2 and a film adaptation of Fahrenheit 451 for HBO.
Writer and director Paul Feig, whose directing credits including 2016's Ghostbusters remake and 2011's Bridesmaids, announced on social media Tuesday that his production company, Feigco Entertainment, would adopt an inclusion rider "for all our film and TV productions moving forward." In the tweet, Feig wrote, "We challenge other companies and studios to do the same."
Hollywood heavyweights Ben Affleck and Matt Damon will also implement inclusion riders in their projects, according to a statement from Fanshen Cox DiGiovanni. DiGiovanni, a writer and producer, serves as the head of outreach for Pearl Street Films, Affleck and Damon's production company.
Actress Brie Larson shared her intent to implement inclusion riders on the same night as the Oscars, tweeting, "I'm committed to the inclusion rider. Who's with me?" shortly after McDormand's acceptance speech.
It's undeniable that McDormand's endorsement certainly raised the profile of contract stipulations to ensure more equity on set and in the industry at large. But some stars were already out there making similar demands before McDormand's comments.
During a panel at the Sundance Film Festival in January, actress Ashley Judd shared her own attempts at increasing diversity in Hollywood. "I would like for this agency that represents me to be 50/50 male-female, including all ethnicities, races and sexual orientations," she said, referring to a previous conversation she had with talent agency WME. "And the 50/50 needs to be included in all decision-making levels, which means they would have to add two females at the top."
And Octavia Spencer revealed at Sundance that her co-star in an upcoming holiday comedy, Jessica Chastain, negotiated to ensure she and Spencer would be paid equally — in Spencer's words, "five times what we [originally] asked for" — after Spencer told her about the compounded discrimination women of color face when it comes to pay equity, People reported.
"I love that woman, because she's walking the walk and she's actually talking the talk," Spencer said of Chastain. "She said, 'Octavia, we're gonna get you paid on this film. You and I are gonna be tied together.'"
Chastain, however, is just one person — for substantive change to happen, demands like hers will have to become industry standard.