Viacom-owned channels honor the National School Walkout with a 17-minute blackout in programming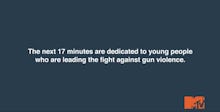 For 17 minutes on Wednesday morning, anyone who tuned into Nickelodeon, MTV, BET, Comedy Central or other Viacom-owned channels saw something they probably weren't expecting: a message of support for students participating in the National School Walkout across the U.S.
Starting at 10 a.m., each Viacom channel honored the nationwide student protests — which are advocating for stronger gun control in the wake of February's shooting in Parkland, Florida, that left 17 people dead — in slightly different ways. MTV celebrated a number of young activists around the country. Nickelodeon simply showed a message in text: "In support of kids leading the way today, Nickelodeon will be off the air until 17 minutes past the hour," according to the Knoxville News Sentinel.
Viacom first announced the blackout across its channels in a blog post published Tuesday.
"We believe it's critical to support the inspiring efforts of our youth, who are literally fighting for their lives," Marva Smalls, Viacom's executive vice president of global inclusion, said, per the blog post. "Viacom also has a responsibility to our audiences to do everything we can to elevate the many brave and bold activists to help them extend the reach and impact of their voices in this important movement."
Viacom isn't the only company taking sides in the debate over gun control in recent weeks. Since the shooting in Parkland, a growing list of companies — including Delta Air Lines, United Airlines, Hertz and MetLife — have cut ties in some way with the National Rifle Association.