Trump dark money org hires Carl Higbie, who resigned from Trump administration after racist comments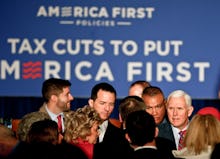 America First Policies, a dark money group created to promote President Donald Trump's policy agenda, announced on Thursday that it hired Carl Higbie — a former radio show host who made such racist, sexist and offensive comments that he resigned from his role in the Trump administration earlier this year.
Higbie, who will serve as America First Policies' director of advocacy, left the Corporation for National and Community Service after CNN uncovered Higbie's past comments, in which he said the majority of veterans fake having post-traumatic stress disorder, that Muslims are akin to child molesters and that people should be able to shoot immigrants crossing the border, among other things.
"Carl Higbie has been a loyal fighter for the America-first agenda since day one," Brian O. Walsh, president of America First Policies, said in a statement announcing Higbie's new role. "His esteemed military leadership and service to our great nation — along with his extensive experience in advocacy, communications and campaigning for candidates for federal office — will make him an invaluable addition to the America First team."
Higbie, for his part, apologized for his past offensive comments.
"I'm sorry. I'm not sorry that my words were published, I am sorry that I said them in 2013," Higbie tweeted in January. "Those words do not reflect who I am or what I stand for, I regret saying them. Last night I informed the WH that I was resigning so as not to distract from POTUS' many success[es]. #noexcuses"
Comments Higbie made include saying that "breeding is a form of government employment" for black women, that Muslims have "the ideology of a child molester" and that "75% of people with PTSD don't actually have it, and they're either milking something for a little extra money in disability or they're just, they honestly are just lying," according to radio broadcasts unearthed by CNN.
Higbie also called Sen. Dianne Feinstein (D-Calif.) a "bitch," and decried the passage of same-sex marriage, saying, "I don't like gay people. I just don't."
Higbie is not the first Trump administration official to be fired and then rehired by a Trump campaign arm.
John McEntee, Trump's personal assistant, was fired on Monday for suspicion of "serious financial crimes" and escorted off the White House grounds so quickly that he couldn't grab his coat.
However on Tuesday, McEntee was immediately hired as a senior adviser on Trump's campaign.