What Conor Lamb's victory in Trump country means for Democrats in 2018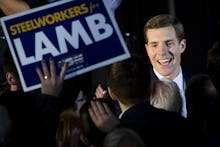 Welcome to Mic's daily read on Donald Trump's America. Want to receive this as a daily email in your inbox? Subscribe here.
Thursday's dispatch: What Conor Lamb means for Democrats and Trump country
Conor Lamb's narrow victory in a Pennsylvania special U.S. House election is perhaps the strongest — though far from the first — sign Democrats have a comeback opportunity in Trump country in 2018.
Lamb, a Democrat, won a House seat in Pennsylvania's southwestern corner outside of Pittsburgh. After Democratic losses in high-profile Kansas, Georgia and Montana special elections, Lamb's victory brought the first flip of a Republican seat in a U.S. House special election in the Trump era. Lamb's district — which has been redistricted for 2018 by a Pennsylvania Supreme Court ruling — is packed with majority-white working-class towns and counties that were once synonymous with unions and Democratic politicians.
Lamb's victory was fueled by voters in precincts just outside Pittsburgh. In Allegheny County, for example, he ran up the score against Republican candidate Rick Saccone by 15 percentage points. But even in the other three counties in the district, which Saccone won, voters trended far more Democratic than they had in 2016. Lamb also turned out 79% of the 2016 vote, while Saccone only brought out 53% of Trump voters, according to one calculation. That fueled Lamb to an unofficial 627-vote victory — two-tenths of 1 percentage point — in a House seat Republicans won in 2016 by more than 20 points.
Democrats are crowing about what this opportunity may mean for 2018. With the Pennsylvania Supreme Court redrawing gerrymandered districts to make races more fair to Democrats, liberals there see an opportunity to knock off several GOP incumbents.
In Ohio, Democrats running to unlock a GOP hold on statewide offices and a supermajority in the state legislature sense an opportunity. David Pepper, the state Democratic Party chair, said Lamb's win shows House districts where Republicans traditionally win by 10 points to 20 points are not safe in 2018. He added there are seven Republican-held House districts in Ohio that Trump won by less in 2016 than the district Lamb won.
Twenty-three of the 79 "majority maker" districts the Democratic Congressional Campaign Committee is targeting in 2018 are in the Rust Belt states of Wisconsin, Indiana, Michigan, Ohio, Kentucky, West Virginia and Pennsylvania that are under strong Republican control. A 10-point to 20-point swing in favor of Democrats in those states could sweep dozens of Republicans from power.
Lamb's victory was also stunning for Democrats because the district is 94% white. White voters leaned heavily for President Donald Trump and Republicans in 2016 — he won 42 of the 45 House districts in 2016 where whites make up more than 90% of the population. To turn out those voters in his favor, Lamb capitalized on an anti-free trade, conservative Democratic platform that won support from local union and working-class leaders.
Hillary Clinton won 23 Republican-held congressional districts in 2016. Victories for Democrats there, combined with a similar level of support for Democrats in districts like Lamb's nationwide, could easily bring Democrats the 24-seat majority they need to win back the House. In fact, Trump won by less in 110 congressional districts nationwide than he did in Pennsylvania's 18th Congressional District.
In 2010, Republicans won 63 House seats, the largest wave for a U.S. party ever. The signs in 2018 suggest this midterm election could be even bigger. And the GOP knows it. In a House Republican caucus meeting on Wednesday, Republican leaders urged their members to not be complacent and focus on fundraising. Trump, meanwhile, told donors in California that Lamb ran "a pretty smart race, actually ... I asked, 'Is he a Republican?'"
Today's question: What do you think Conor Lamb's victory says about 2018?
Please email us at trumpsamerica@mic.com with your thoughts.
Thursday in Trump's America:
More fallout: Some Democrats are interpreting Lamb's moderate positions as a message they should disavow House Minority Leader Nancy Pelosi (D-Calif.) in midterm races. Lamb said publicly he did not support Pelosi and called claims he is aligned with her "a big lie" in an effective campaign ad.
Stormy Daniels: The porn actress who alleges she had an affair with Trump may now be able to tell her story because of a legal maneuver by BuzzFeed News.
Budget negotiations: Republicans plan to unveil legislation next week to fund the government through October. A major sticking point is funding for the Gateway tunnel project between New York City and New Jersey, which Trump does not want the federal government to pay for. Meanwhile, House Speaker Paul Ryan (R-Wis.) briefly floated an immigration deal as part of the bill, but backed down after immediate and widespread GOP opposition.
Banking bill: By a 67-31 vote, Republicans and moderate Democrats passed a bill that raises the threshold at which a bank is required to adhere to stronger regulatory practices. Progressive Democrats warn that the bill, which rolls back part of the Dodd-Frank financial reform legislation, puts the U.S. economy in danger of another economic collapse spurred by speculative, unchecked bank lending.
Mass shootings: Thousands of teenagers walked out of classes on Wednesday, a month after the Parkland, Florida, shooting, to honor the 17 victims. These are the 14 mass shootings since the Parkland attack. Viacom-owned BET, Nickelodeon and MTV honored victims with a 17-minute blackout of their programming.
Trump aide shuffle: Carl Higbie, a former Trump appointee who was the public face of AmeriCorps, a government program, resigned after CNN found he made sexist, racist and anti-Muslim comments on a radio show. Trump's super PAC has now hired him as director of advocacy.
Today's MicBite:
Even though he's a conservative, surviving the Parkland shooting changed Lewis Mizen's stance on gun control. He still believes in the Second Amendment — but what's even more important is coming to a compromise that's safe for everyone.
Lewis is the newest video opinion columnist for Mic — stay tuned as he speaks with people involved in all sides of the gun debate.