Fundamental Reading: On the 'RuPaul's Drag Race All Stars 3' finale, the girls tried to one-up 'AS2'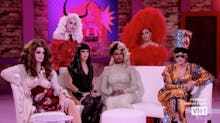 Hello, my creative little cranberries. It's time for our final chat about RuPaul's Drag Race All Stars 3.
In Thursday's finale, Ru, with the help of every eliminated queen, decided who deserved a spot in the Drag Race hall of fame alongside Chad Michaels and Alaska Thunderfuck 5000. But not before they unleashed a calculated, try-hard followup to All Stars 2's "Read U Wrote U" onto the world.
See, for the finale of All Stars 2, the season's finalists — Alaska, Detox, Katya and Roxxxy — recorded guest verses for a RuPaul song and performed choreography to the final product together on-stage. It was an instantly iconic number that fans and queens alike still reference on the regular. In fact, one of Trixie Mattel's favorite gags is simply to quote Roxxxy's infamous verse at any chance she gets, including at the end of her promo video for All Stars 3.
Needless to say, All Stars 3's attempt to match the impact of "Read U Wrote U" had a daunting task ahead of it — but in lieu of interesting choreography, the team just threw a whole bunch of money at a big production number and it didn't really work as well as they thought it would. This time around, RuPaul's far less interesting bop "Kitty Girl" was the song of choice, and instead of dancing on-stage, the finalists danced — OK, mostly trotted — in a single-shot, choreographed number through the backstage of the Drag Race lot.
Because if there's one thing gay people love, it's the poorly lit concrete hallways behind glamorous sound stages, am I right?
Well, keep your wigs on, kitty girls, because I found this number to be a bit of a stinker.
Sure, the shoot itself was technically impressive, but complicated lighting rigs and drag queens frantically jogging to keep up with an ever-moving camera are never, ever going to make a gay bar shriek in glee. Unsurprisingly, the parts where the "Kitty Girl" video shined were the moments when the camera stopped moving and just let its stars dance and sing their verses. (Just as an aside, can we note how shady it was to put BeBe's verse in a room full of sewing machines? She's never going to live that Aja drama down, poor thing.)
Just take a look at this clip from the very beginning of Shangela's verse — which, heard on its own, is probably the strongest of the bunch. But instead of seeing our star, we have to watch her slowly make her way toward us for a solid 10 seconds while incomprehensible nonsense swarms around her.
By the time she actually gets to do some (notably on-point) choreo, her verse is over.
Take note for the future: Just because a number has a million moving parts doesn't mean it's going to be a cultural phenomenon. Production value has never really been Drag Race's appeal, anyway. It's all about letting the personality of each queen shine through and having them do what they do best.
All Stars 3 attempted to dethrone "Read U Wrote U" through sheer force of will, but I suspect it won't take.
And the winner of RuPaul's Drag Race All Stars 3 is...
With all of that out of the way, let's move onto what happened next: The eliminated girls all came back yet again and interrogated each of the four finalists, grilling them in the hopes of sussing out who deserved a spot in the top two. This was a first for the series, and a total departure from the format of All Stars 2. There, Ru simply whittled the top four down to a top three (Sorry, Roxxxy) and then decided the winner from there based on a final lip sync.
The jury format was an interesting switch-up, but ultimately, it was mostly an exercise in dredging up more interpersonal drama — mostly in revisiting the question of who BeBe would've brought back in episode seven. But this time around, those conversations were actually quantified: Once every finalist pleaded their case, the eliminated queens voted to decide the final two.
Once the votes were tabulated, Morgan revealed Kennedy and Trixie were the top two finalists, sending BeBe and, shockingly, frontrunner Shangela home. If you, like everyone, were hoping to know who voted for whom, you won't find out in the episode itself, but the final votes were later revealed in a video posted to the RuPaul's Drag Race Twitter. In it, we're told each person's first choice was worth two points and their second choice was worth one. Here's the breakdown of how everyone voted:
• Aja: First choice was Kennedy; second choice was Trixie.
• BenDeLaCreme: First choice was Kennedy; second choice was Trixie.
• Chi Chi DeVayne: First choice was Kennedy; second choice was Trixie.
• Milk: First choice was Trixie; second choice was Kennedy.
• Morgan: First choice was BeBe; second choice was Kennedy.
• Thorgy: First choice was Trixie; second choice was Shangela.
Therefore, the final point breakdown was Kennedy with eight points, Trixie with seven, BeBe with two and Shangela with one.
Once Shangela and BeBe cleared the stage, Kennedy and Trixie faced off in a final lip sync to Miley Cyrus's "Wrecking Ball." Both turned out fierce performances: Kennedy opted for a more acrobatic, dance-heavy interpretation of the song, whereas Trixie relied almost entirely on serving face. Though, toward the end of the song, Trixie fell to her knees and dramatically tugged fistfuls of hair out of her wig, pleading for the crown.
Ultimately, Ru deemed Trixie the season's victor.
And that's a wrap for All Stars 3. With that, let's go out on Trixie's Dr. Seussian backside running away from you for an uncomfortably long period of time. Congrats on your win, kitty girl.
Drag Race will be back with the brand-new season 10 next week. See you then.
March 16, 2018, 8:12 a.m.: This story has been updated.