Peppermint on transphobia in the drag world: "We have to change the rules if we're going to evolve"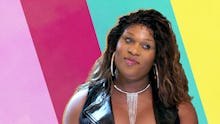 Peppermint arrives at the famed Joe Allen with a small entourage during an hour-long lunch break from rehearsals for Head Over Heels, a new Broadway musical she's starring in, featuring the music of The Go-Go's. On July 26, opening night, Peppermint will make history as the first out transgender actress to originate a principal role on Broadway.
"It feels fantastic; it feels so unexpected," Peppermint says. "It's great, a great group; I love performing with them – and the material is so timely. This is a story about gender and sexuality and turning over a new leaf and opening our mind."
Timely indeed, considering Peppermint's name was at the center of a controversy that began with a March 3 interview RuPaul did with the Guardian. In it, RuPaul hesitated to answer whether or not he'd allow biological women to compete on future seasons of RuPaul's Drag Race, saying, "Drag loses its sense of danger and its sense of irony once it's not men doing it." The interviewer then pressed Ru, citing Peppermint's appearance on season 9.
Here's the exchange that followed:
"Peppermint didn't get breast implants until after she left our show; she was identifying as a woman, but she hadn't really transitioned." Would he accept a contestant who had? He hesitates again. "Probably not.
Which brings us to lunch at Joe Allen to discuss her headspace in the wake of such a tumult that's seen a slew of people — including reigning Drag Race queen Sasha Velour and countless former contestants — weigh in.
"It troubles me for a few reasons," Peppermint says of Ru's remarks. "I think it's important that we focus on more than just surgeries when we talk about trans bodies. ... I wish that I'd been able to have this conversation with Ru, before this article came out. Because I didn't have a chance to explain to Ru a lot of things about my transition, and how I was balancing ... or the tug of war, if you will, between my drag, and my personal medical transition."
Below, in an exclusive sit-down with Mic, Pep opens up about the impact the interview had on her and the faction of the community that does not identify as men; her identity as a trans woman and drag queen not being mutually exclusive; and changing the rules in order for the LGBTQ community to evolve.