Why Trump would have a tough time blocking '60 Minutes' interview with Stormy Daniels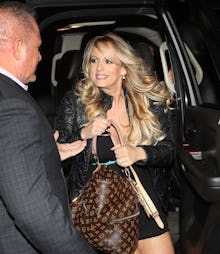 Could President Donald Trump block the broadcast of a highly anticipated interview with porn actress Stephanie Clifford?
BuzzFeed News recently reported that counsel for Trump has considered the possibility of taking legal action to try to prevent CBS News's Sunday newsmagazine program 60 Minutes from airing an interview with Clifford, who performs using the stage name Stormy Daniels. Clifford spoke with 60 Minutes contributor Anderson Cooper on March 8.
"We understand from well-placed sources they are preparing to file for a legal injunction to prevent it from airing," a source familiar with the situation told BuzzFeed News.
Clifford, who has claimed that she had a months-long affair with Trump in 2006 — the year after his marriage to first lady Melania Trump — was thrown into the national spotlight after the Wall Street Journal reported in January that Michael Cohen, Trump's personal lawyer, paid her $130,000 to ensure that she would not speak of the alleged encounter. Questions about the legality of the payment along with regular news items about the legal case have cast a long shadow over an already chaotic White House.
If lawyers for Trump do try to block the publication of the interview with Clifford, it's unlikely that such a move would succeed, legal experts say.
"The odds of Trump getting a court to issue an injunction to prevent CBS from airing this are slim to none," Clay Calvert, the director of the Marion B. Brechner First Amendment Project at University of Florida's journalism school, said in an interview.
Such a move would be considered prior restraint, a highly unusual move in which a court could preemptively prevent the publication of information. Prior restraint is presumptively unconstitutional and is therefore used only used in extreme cases.
"It would be extremely rare for the U.S. Supreme Court to issue prior restraint that would particularly not be related to national security or a gross invasion of someone's privacy rights," said Lucy Dalglish, the former executive director of the Reporters Committee for Freedom of the Press and the dean of the University of Maryland's Philip Merrill College of Journalism.
It's unlikely Trump would succeed with an argument claiming a gross invasion of privacy, Dalglish said.
"As president, Trump is one of the most public people in the world," Dalglish added.
Complicating the matter, too, is the fact that CBS News is not involved in the nondisclosure agreement between Clifford and Trump. In the eyes of a court, CBS would likely be considered an innocent party not required to abide by the nondisclosure agreement, Calvert explained.
"Whatever agreement Clifford reached, CBS is not a party to that," Calvert said. "CBS News did not pay her to break that agreement. In this case, they have just lawfully obtained information from her."
Trump's lawyers may have been more successful if they were to try to intervene before Clifford spoke to CBS News, Dalglish said. But at this point, any attempt to block the interview would be too little, too late.
"It's not [Clifford's] story at this point," Dalglish said. "It's CBS's story now."
The only likely legal remedy for Trump would be to sue Clifford post-publication — either for violating the non-disclosure agreement, or for defamation if any of the information Clifford were to share is untrue. If CBS News knew that information contained within Clifford's interview was untrue but decided to air it anyway, they could also be found liable, Dalglish said.
Despite BuzzFeed News' report, it's not clear whether lawyers for Trump have even attempted such a move to prevent the interview from airing. A CBS News spokesperson did not comment on the matter and would not confirm when the interview would air.
At a conference of media professionals in Jerusalem on Tuesday, CBS News president David Rhodes said that he hadn't seen any such injunction, and said that the interview hadn't aired yet because "there's still a lot of journalistic work to do" — not because of pending legal threats.
Trump has denied the affair through various lawyers and spokespeople. Cohen has confirmed that he paid Clifford $130,000 a month ahead of the 2016 presidential election.
Clifford filed a lawsuit in early March arguing that the nondisclosure agreement she signed was void, because Trump never signed the agreement. A trial date detailing the nondisclosure agreement has been set for July 12.
On Monday, the former porn actress offered to return the $130,000 to speak freely. On Tuesday, Michael Avenatti, an attorney representing Clifford, accused Trump and Cohen of trying to "muzzle" his client by not answering Clifford's offer to pay back the $130,000.
"The president and Mr. Cohen have purposely ignored our settlement offer, thus doubling down on their efforts to muzzle Ms. Clifford and prevent her from telling the American people what happened," Avenatti tweeted. "Time to buckle up."
Avenatti also told the New York Times that he has 24-hour security on Clifford after he says a car tailed her following a dance performance in Florida.
Clifford recently launched a crowdfunding campaign to raise money to cover legal fees.
In a new twist, CNN reported Wednesday that a lawyer for the Trump Organization, Jill Martin, was involved in the ongoing legal battle. This is despite the fact that Cohen had previously denied that the Trump Organization or the Trump campaign were aware of the payout to Clifford. In a statement from the Trump Organization to CNN, Martin said that she was working in "her individual capacity" and that the Trump Organization was not involved.