Black comediennes speak out about Mo'Nique's pay-gap campaign against Netflix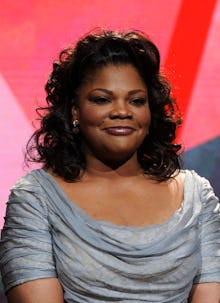 With the rise of movements calling out marginalization in the entertainment industry, black women in comedy are speaking out with renewed vigor about the challenges they face at work.
Hashtags like #OscarsSoWhite and #InclusionRider have drawn attention to poor racial and gender representation in Hollywood films of late. But after Oscar-winning black comedienne Mo'Nique called for a boycott of Netflix over what she called "gender bias and color bias" in January, the conversation has grown more pointed.
Mic spoke with four black comediennes for their thoughts on recent developments in the debate, and Mo'Nique's situation in particular. They are Keisha Zollar, improv comedienne and writer for Comedy Central's The Opposition with Jordan Klepper; Tessa Hersh, who is a featured performer on New York City's Upright Citizen's Brigade Comedy show I'm Your Mommy; Rasheda Crockett, actress and staff writer for TruTV's Adam Ruins Everything; and Kerry Coddett, stand-up comedian and writer for HBO's Wyatt Cenac's Problem Areas.
"I'm grateful for the conversation and being able to speak to it, but what I would love more is ... to just showcase us," Coddett said. "Let's showcase the women that are ... actually funny, that have a diversity of thought and opinions."
The discussion about black women in comedy heated up up on Jan. 19, when Mo'Nique posted an Instagram video calling on her fans to boycott Netflix.
"I am asking that you stand with me and boycott Netflix for gender bias and color bias," Mo'Nique said in the video. "I was offered a $500,000 deal last week to do a comedy special."
She compared the offer she received to the paychecks reportedly given to comics Amy Schumer, Dave Chappelle and Chris Rock for their Netflix specials. Schumer reportedly renegotiated her deal after learning what Chappelle and Chris Rock were receiving. All got eight-figure deals.
"When I asked Netflix to explain the difference, why the money was so different, they said well we believe that's what Mo'Nique will bring," she said.
You can watch Mo'Nique's Instagram video in full below:
Some critics, like Power 105.1's The Breakfast Club co-host Charlamagne tha God, said Mo'Nique needed to bring more receipts to the table to prove she was worth the same money to Netflix's executives as Chappelle, Rock and Schumer received.
"I just don't understand how you can justify making $13 million in 2018 for a stand-up special," he said to Mo'Nique when she appeared on his show in February. "Was there a bidding war between platforms? Do you do the numbers in ticket sales that Chris Rock does, that Dave Chappelle does, that Amy Schumer does?"
Others thought she was clearly being lowballed. Jada Pinkett Smith tweeted in support of the comedienne on Jan. 23.
"You don't have to like Mo'Nique's approach," Smith expressed. "You don't have to agree with her boycott but don't allow all of that to make you blind to the fact that non-white women and impoverished white women are underpaid, underrepresented and undervalued everywhere by everyone."
Chance the Rapper followed suit on Feb. 24.
"Im with Mo'Nique," he wrote.
Fellow veteran comedienne Wanda Sykes took to Twitter to share her support and similar experiences on Jan. 21.
"[Mo'Nique], thank you for speaking out," Sykes wrote. "[Netflix] offered me less than half of your $500K [for the comedy special What Happened...Ms. Sykes?]. I was offended but found another home [at Epix]."
"It's hard to not look at how public Mo'Nique and Wanda Sykes were about their compensation, and their desire to be compensated," said Zollar. "I know some people feel a way about it, but I actually find that interesting and uplifting. To be able to make that public is important, so I have more hope than I used to."
Crocket said she has reservations about Mo'Nique's approach to speaking out. But she agrees that it is "ridiculous" that a black woman has to say out loud that she deserves equal pay.
"I can't say that I 100% agree or disagree, I think it's a messy topic but it's an important and she's brave and she's special for taking the bullets the way she's been taking them," said Crockett.
"There's known rates for a man of color, versus a woman of color, versus white men," Hersh added of the industry's pay gaps. "I think that there hasn't been a lot of transparency around pay so people have gotten away with a lot. I know actors who have gotten jobs and really had to fight with their management team and agents to fight for them to get a rate that wasn't based on their race."
"My agent, my lawyer, my manager, they're all women," Coddett said, adding that Mo'Nique speaking out is "great for everybody," though she has not personally faced any specific instances of what she would call unfair pay. "Two of [my team] are black women. They always negotiate. They're very sharp. They're very shrewd. They make sure that I get, I gotta get as much as other people."
According to a report from the Institute of Women's Policy Research, the median weekly earnings for black women full-time workers across 120 different occupations — including service, office and administrative support, and management, business and financial operations jobs — was 62.5% that of white men. Such gaps persist in the film and TV industries as well. Variety's 2017 list of highest paid TV comedy stars contains no black women, but does does feature black men, including Dwayne Johnson, the list's highest-paid black actor, who makes $650,000 per episode for starring in HBO's Ballers.
This inequity is exacerbated in film and TV by work scarcity — though matters seem to be gradually improving. According to the USC Annenberg Inclusion Initiative's 2017 report on inequality in 900 popular films, the number of women with speaking roles in comedy films have increased from 36% in 2007 to 40.8% in 2016. The percentage of underrepresented characters in comedy films — defined in the report as all non-white characters — increased from 23.1% in 2007 to 32.1% in 2016.
Even so, when it comes to leading roles in films across genres, female actors from underrepresented racial and ethnic groups only led three out of 900 that same year. Several black women in comedy are thriving despite these odds. Tiffany Haddish's outlandish and raunchy stunts in 2017's Girls Trip (co-written by black women screenwriter Tracy Oliver) catapulted her career; Issa Rae created, runs and stars in the critically acclaimed Insecure for HBO; Lena Waithe became the first black woman to win a comedy writing Emmy for her Master of None episode, which notably centered the coming-of-age story of a young black lesbian; and in 2017, Tracee Ellis Ross became the first black woman to win best actress in a comedy or musical at the Golden Globes since 1982, for her role on ABC's Black-ish.
Mo'Nique and Wanda Syke's experiences demonstrate that it's difficult to escape racial and gender bias in any United States labor market, even at their level of wealth and fame. Zollar says more black female leadership in entertainment is one way to achieve parity.
"We need more black female leadership, both on and off screen," she explained. "I think it's about making sure that black writers are being included in writer's rooms. Black producers are being included. Black showrunners. Black directors. Black actors … really making sure that when you're going into a position of power, you're not reinforcing the same ... types of people and the same types of stories when you're building shows and movies and entertainment."
Coddett said that speaking up about the lack of black women in comedy has actually yielded positive results for her. In 2013, she wrote in a Huffington Post op-ed titled "Is SNL Ready for Black Women?," responding to Saturday Night Live cast member Kenan Thompson's claim that there weren't any black women on the show cast at the time because "[we] just never find ones that are ready."
(In response to the fallout from this comment, SNL added two black female cast members in 2014: Sasheer Zamata, who left the show in 2017; and Leslie Jones, who they brought on first as a writer, and who remains a cast member today.)
"Because of my article, it just became a huge thing, [more] than I ever thought would have happened," Coddett said of her piece, which argued that even if there were black comediennes on the show, the overwhelmingly white writer's room likely wasn't capable of creating versatile characters for black women to play anyway. "And we were able to put the pressure on them, and they had auditions. And I ended up being called in to audition as a direct response to that."
Rasheda Crockett said she is optimistic about the future of black women in comedy, despite these obstacles, misperceptions and her own experiences at auditions in which she is often asked to read for stereotypical roles, like the sassy neighbor or black best friend.
"I decided, 'I'm going to be creating my own material, and my creative voice [is] going to reflect black women and it's going to reflect my scholastic past'," she said. "And that's exactly what the industry needs right now. My voice is exactly what this industry is thirsty for."
"We're the queen or tragic," Hersh said of the roles typically available to black women Hollywood. She pointed to the rise of Issa Rae as a rare example of a comedienne who plays a normal, flawed black woman. "She's allowed to be normal and fail and [be] Liz Lemon from 30 Rock — this quirky, weird, making-mistakes self. And it's insanely radical that she's doing it.
"I want more opportunities and more worlds where we're allowed to be ugly; where we're allowed to be fat, but fat isn't the joke of it," she added. "We're allowed to fail and explore these different worlds that we know and haven't been allowed to know."