Treasury Department hits Russia with sanctions over 2016 election meddling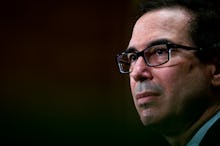 The Donald Trump administration will impose sanctions on the Internet Research Agency and other Russian actors over the Kremlin's interference in the 2016 United States election and other cyberattacks, the Treasury Department announced Thursday.
The Treasury's Office of Foreign Assets Control will sanction "five entities and 19 individuals under the Countering America's Adversaries Through Sanctions Act" and through an executive order targeted at malicious cyber actors, according to a statement.
"The administration is confronting and countering malign Russian cyberactivity, including their attempted interference in U.S. elections, destructive cyberattacks, and intrusions targeting critical infrastructure," Treasury Secretary Steve Mnuchin said in a Thursday statement.
The Internet Research Agency, a Russian troll farm known for its propaganda and disinformation campaigns, was indicted in February by special counsel Robert Mueller over its 2016 election meddling.
The sanctions announced by Mnuchin Thursday targeted individuals and entities connected to the Internet Research Agency. They also target the Federal Security Service and the Main Intelligence Directorate, along with individuals affiliated with the two Russian intelligence outfits.
The move comes as President Donald Trump and several of his associates face heavy scrutiny over possible collusion with the Kremlin in the 2016 election. Trump has repeatedly cast doubt on the conclusion reached by U.S. intelligence that Russian President Vladimir Putin interfered in the election, and has been criticized in recent days for declining to condemn the Kremlin for allegedly poisoning a former Russian double agent in Britain on March 4.
The sanctions come about a month and a half after the Trump administration announced it would not impose the sanctions on Russia that Congress had overwhelmingly passed in 2017, arguing that the "the legislation is, in fact, serving as a deterrent."
According to the Treasury Department, the new sanctions are a response to Russia's 2016 election interference and other malicious cyberactivity, along with its "ongoing efforts to destabilize Ukraine, occupy Crimea, meddle in elections, as well as for its endemic corruption and human rights abuses."
"These targeted sanctions are a part of a broader effort to address the ongoing nefarious attacks emanating from Russia," Mnuchin said in a statement. "Treasury intends to impose additional CAATSA sanctions, informed by our intelligence community, to hold Russian government officials and oligarchs accountable for their destabilizing activities by severing their access to the U.S. financial system."